General
Source companies were designed so you can keep track of which companies you receive loans and leases from. Therefor, you are able to filter your searches and reports based on companies. This allows you to track how loans and leases, received from certain companies, perform relative to each other.  Source companies can be anything from dealerships that refer customers to you, to companies you use to advertise for loans.  If you sign up for our third-party eCheck processors, you have the ability to send funds directly to a specific source company. If you are using our QuickBooks Live integration, the Source Companies will be were your Vendors inside of QuickBooks.
How to
To create a new source company, navigate to Settings > Loan Management > Source Company > Companies inside your company account.

You can make changes to existing companies by clicking EDIT to edit them orDELETE to delete them.
To add a source company click New Source Company.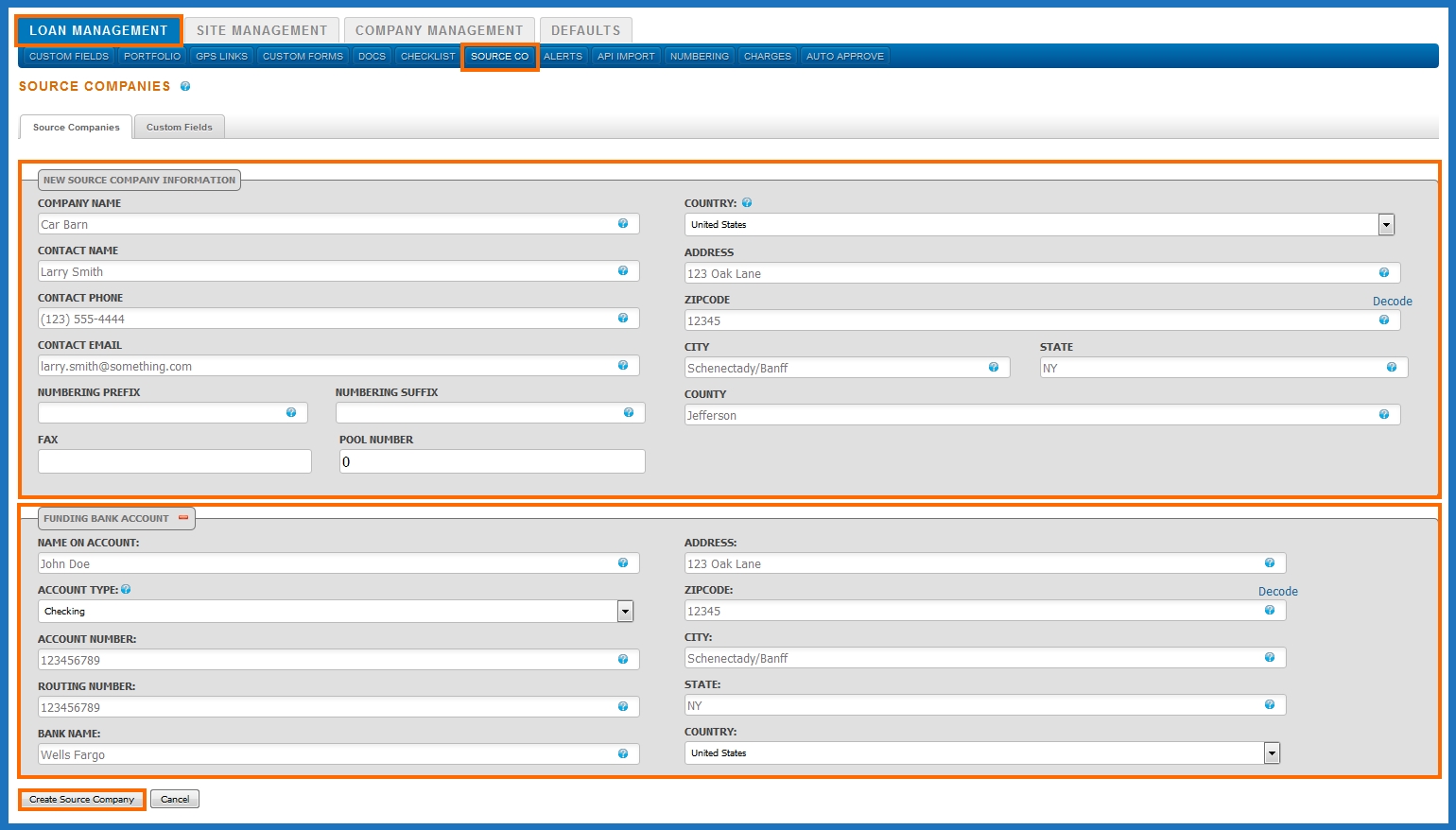 "Contact Name" is simply the name of your contact at the company.
"Numbering Prefix and Numbering Suffix" work in conjunction with AutoPal Software's custom numbering feature.  Typically, when you create a new loan or lease, AutoPal Software will automatically assign the account number.  However, you can choose to have the Numbering Prefix added to the beginning of the number and/or the Numbering Suffix added to the end of the number so that you can classify by the account ID which source company it came from.
Once you have entered the source company information, click Create Source Company to save it.
Additionally, it should be noted that you have the ability to add custom fields to your source companies to help ensure that all necessary information is recorded during the creation of a new source company in the system. By selecting the "Custom Fields" icon on this page, you will be able to add new fields to your source companies.
Source Company Status
To change the status of the source company between "Active" and "Inactive" simply select the on/off toggle switch. If a source company's status is set to active, it will be available to assign to an individual loan, located in the loan settings tab of that loan. To assign a source company to a loan, please view our Loan Settings article.