General

AutoPal lets you send emails manually through our Email Tool. AutoPal also lets you setup automated emails to send to either borrower or servicing users when specific pre-set criteria are met in the software. These notifications are called "Trigger-Based Email Notifications", and are designed to keep you in contact with your customers, and keep you informed of events on accounts.
How To: Configure A Trigger-Based Notification
To edit / create a trigger-based email notification, navigate to Settings > Company Management > Emails. You will be greeted by the following screen on this page: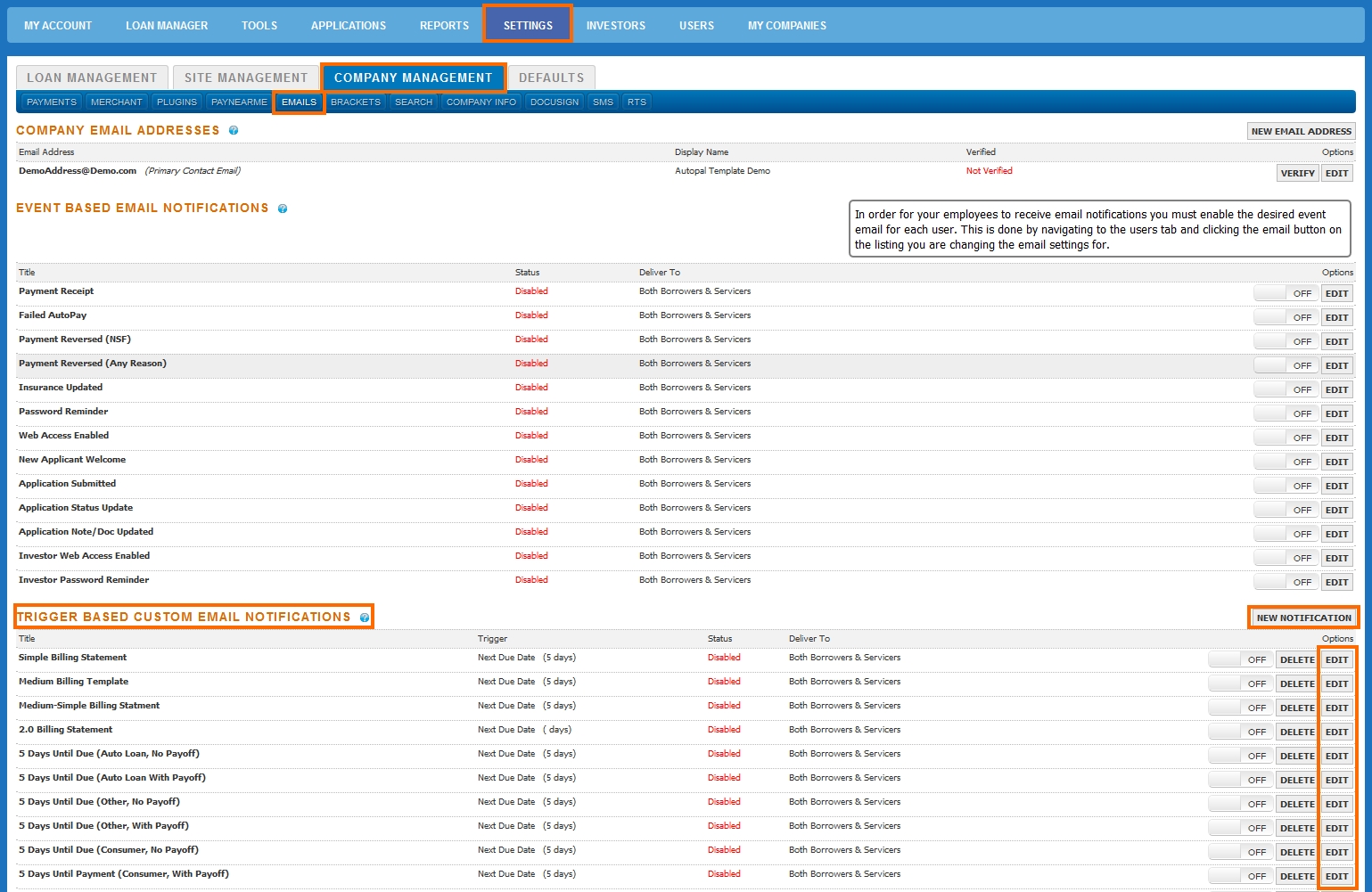 To Edit an existing trigger-based notification, select the "Edit" icon next to the notification you wish to modify.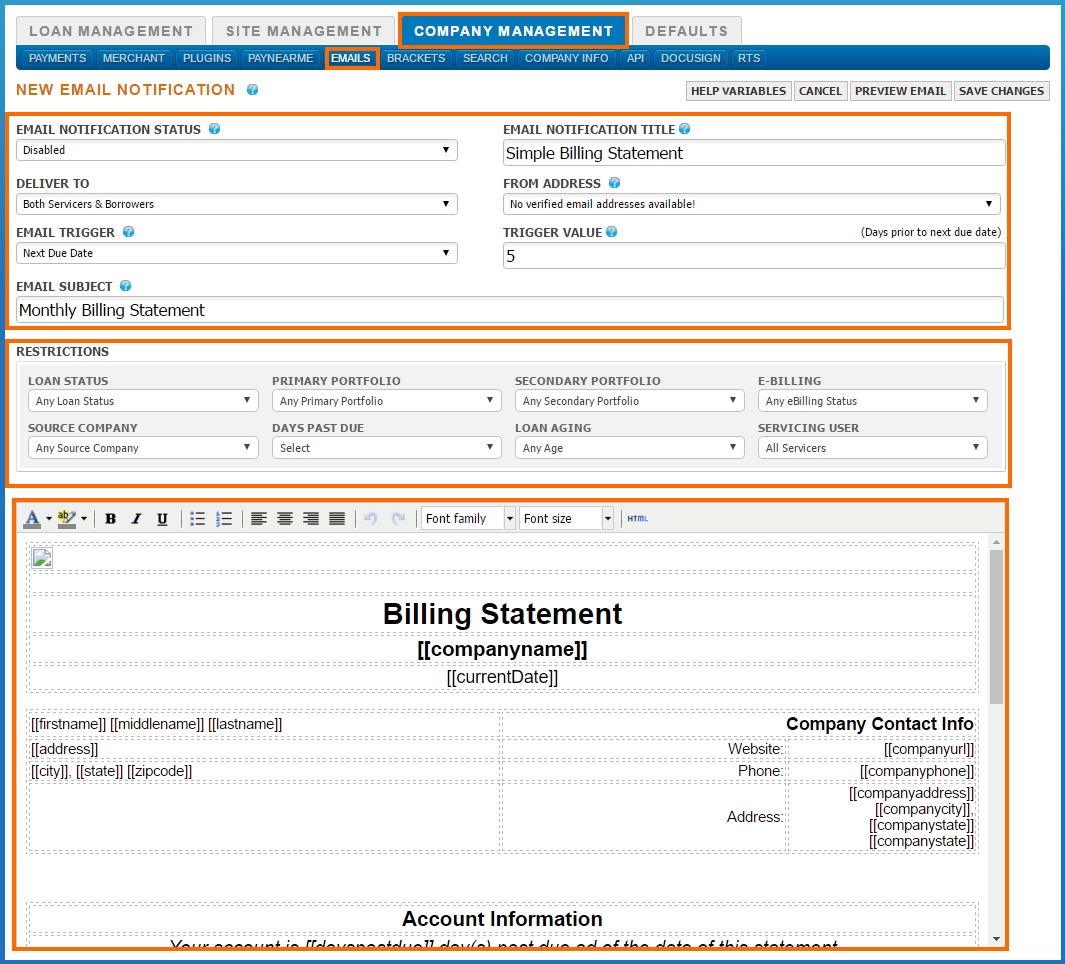 The trigger-based notifications are divided into three sections. The send/subject settings, restriction configuration, and content configuration. The send/subject settings are defined as follows:
Email Status – Choose whether this email should be active or not.  If this action is set to Off, the email will not be sent out.
Email Notification Title – Give your custom notification a title/name.
Deliver To – Who should receive this email.  You can choose to have borrowers, servicing users, or both to receive this email when it gets sent out.
From Address – This drop-down contains the list of verified email addresses for your company.  Choose the email address that this email should be coming from.
Email Trigger – Select how you want your notification to be triggered. The following options are available:

Trigger Value  – Select what value will be used to trigger the notification to send. There is always a note directly above and to the right of the field designating what values are accepted, and how they will be counted.

Please note that the values you enter will be dependent on the email trigger you have selected. For example, if you have selected the "Insurance Exp Date" email trigger, you can enter a negative value if you would like to send the notification prior to the expiration date, or positive values for dates after. The three fields that will have options like this are: Insurance Exp Date, Credit Card Exp Date, and Promise Due Date.
Email Subject – The subject of the email (this will be seen by the message recipient)
The "Restrictions" section is used to restrict who is eligible to receive the notification. The restriction options include:
Loan Status – Restrict this notification to loans of a specific status or sub status.
Primary Portfolio – Restrict this notification to loans that are in a specific primary portfolio.
Secondary Portfolio – Restrict this notification to loans that are in a specific secondary portfolio.
E-Billing – Restrict this notification to loans with a specific e-billing selection.
Source Company – Restrict this notification to loans assigned to a specific source company.
Days Past Due – Restrict this notification to loans that are a specific number of days past due.
Loan Aging – Restrict this notification to loans of a specific age.
Servicing User – Restrict this notification to loans with a specific servicing user assigned.
The content configuration is located at the bottom of the page. This is where you will enter the notification's body of text. You can use the tools provided to format the email text. The options available in the editor include; Text Color, Highlight Color, Bold, Italics, Underline, Bullets, Numbers, Alignment Options, Undo, Redo, Font, Font-Size, HTML View.

When configuring your emails, it is recommended that you utilize AutoPal Software's variable system. These variables will merge account and customer information into the email message so the information in it will be specific to the recipient. To use the variables, click Help Variables in in the upper-righthand corner of the page.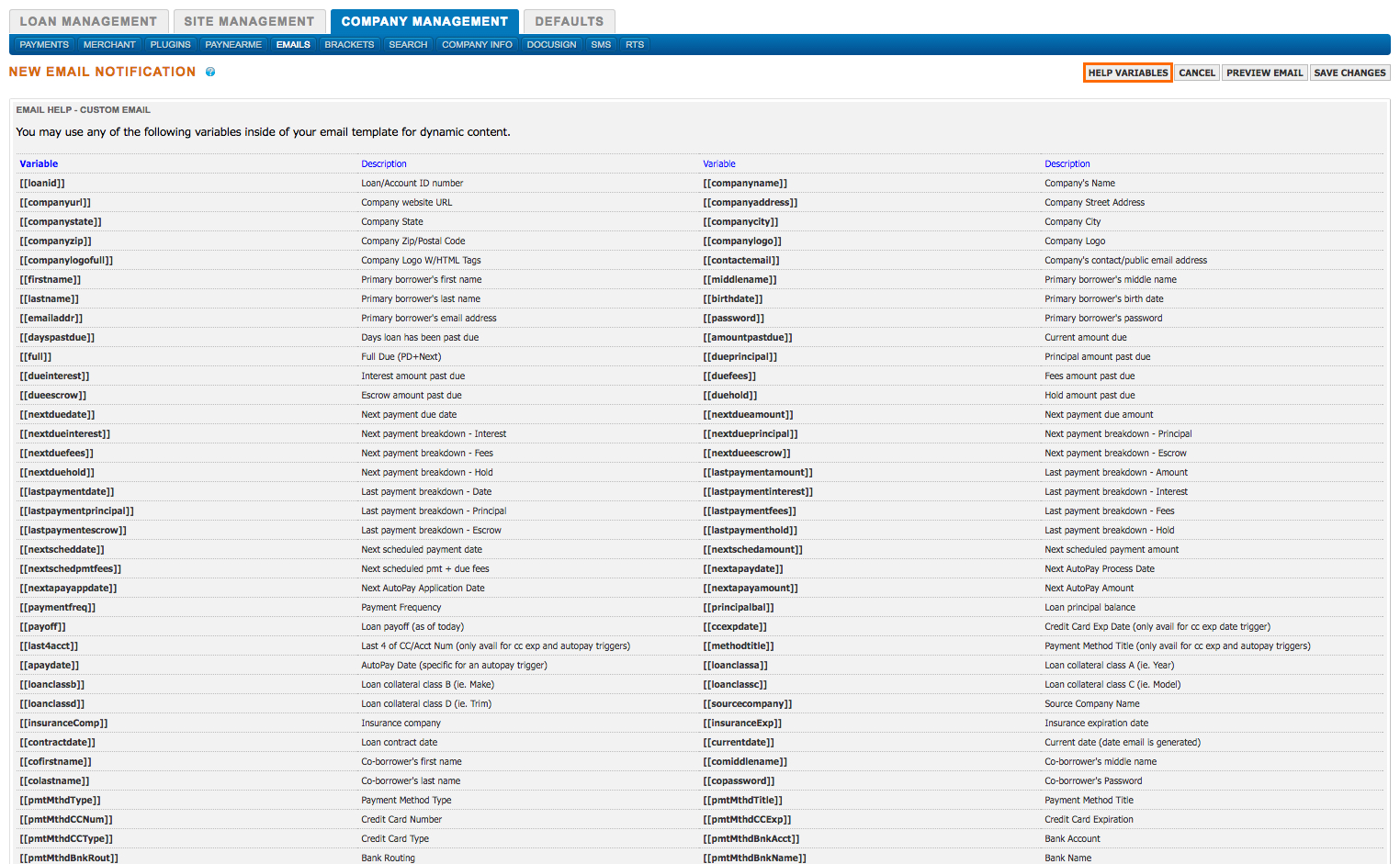 Simply place your cursor where the variable is located in the content configuration portion of the page, then click on the variable you would like to use. The system will automatically paste the variable in the last location of your cursor on the page. You can then select the Preview Email button to get a better idea of how the email will look when sent to your clients. Once you have completed the email configuration select the "Save Changes" button, and you are done!