General
Stoplights are designed to give you an idea of the overall "health" of an account at a glance.  You can either manually assign a stoplight to an account, or you can configure the system so it will automatically assign a stoplight based on your company's rules.
** If a stoplight is not currently performing as expected, please check the account to make sure that it has not been manually assigned. If so, please Remove Stoplight Manual Override.
Automatic Stoplights
Setting the system to automatically manage your stoplights takes a few more steps, but you will only have to do it once.  To set up rules for automatic stoplights, navigate to Settings > Loan Management > Alerts > Stoplight Rules.

AutoPal Software allows you to establish Stoplight rules to let AutoPal know under what conditions the stoplight should change. You can establish as many rules as you desire. With this, you are able to prioritize rules, allowing the higher prioritized rule to supersede others in case of conflicting rules. Rules can be established based on the number of days an account is past-due, and on whether the account has current insurance.
Setup New Automatic Stoplight
To add a new rule, click the "Add New Rule" button.

Select either "Insurance" or "Days Past Due" from the "Test Type" drop-down menu.

Insurance
To define the parameters for an insurance rule, simply select "Insurance" from the "Test Type" drop-down menu. Choose is "expired," "is not expired," or "no insurance".
Days Past Due
For a rule based on the "Days Past Due", you will need to define the range of days the account will be past due to qualify for this rule, as well as the formatting and stoplight changes that will take place on the listings of accounts that qualify.
First, define how many days the account must be past due to qualify for this account. Select "equal to," "greater than or equal to," "greater than," "less than or equal to," or "less than" from the drop-down menu and then enter a number of days in the field to the right of the menu. If you select "equal to" from the drop-down menu, you can move on to choosing your formatting options.
If you chose something other than "equal to," you have only defined one number end of the days past due range. Make a choice from the new drop-down menu that appeared. If you chose a "greater than" option you will get "less than" choices and vice versa. Make the appropriate choice, and then enter a number of days in the field to the right of the new drop-down.

Formatting Options
You can choose the Stoplight color, text style, and text color that will apply for each Stoplight rule. From the Stoplight drop-down, you can choose "No Change," "Red," "Yellow," or "Green." Choose a text style from the Text Style drop-down. You can choose "None," 'Bold," "Italicize," "Underline," "Line Through," "Blink" (this option is only supported in Firefox). To customize your stoplight rule:
Select the desired color change

Select the loan list Text Style

Select the loan list Text Color

To save the your new rule select the Save Stoplight Rule button

Stoplight Rules Priority
You can create as many stoplight rule as you want.  There may be a situation where you have two conflicting rules, so you will need to assign a priority to the rules to tell the system which one takes precedence.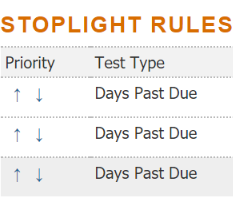 You can change the priority of a rule by selecting the up arrow or down arrow next to the rule.   Rules that are on the top will have a higher priority than the rules below them.
Once you've created and ordered your rules, you are done.
Manually Assign Stoplight
To manually assign a stoplight to an account, simply click the stoplight desired color next to the Loan Status.  This will override the stoplight rules set in your company defaults.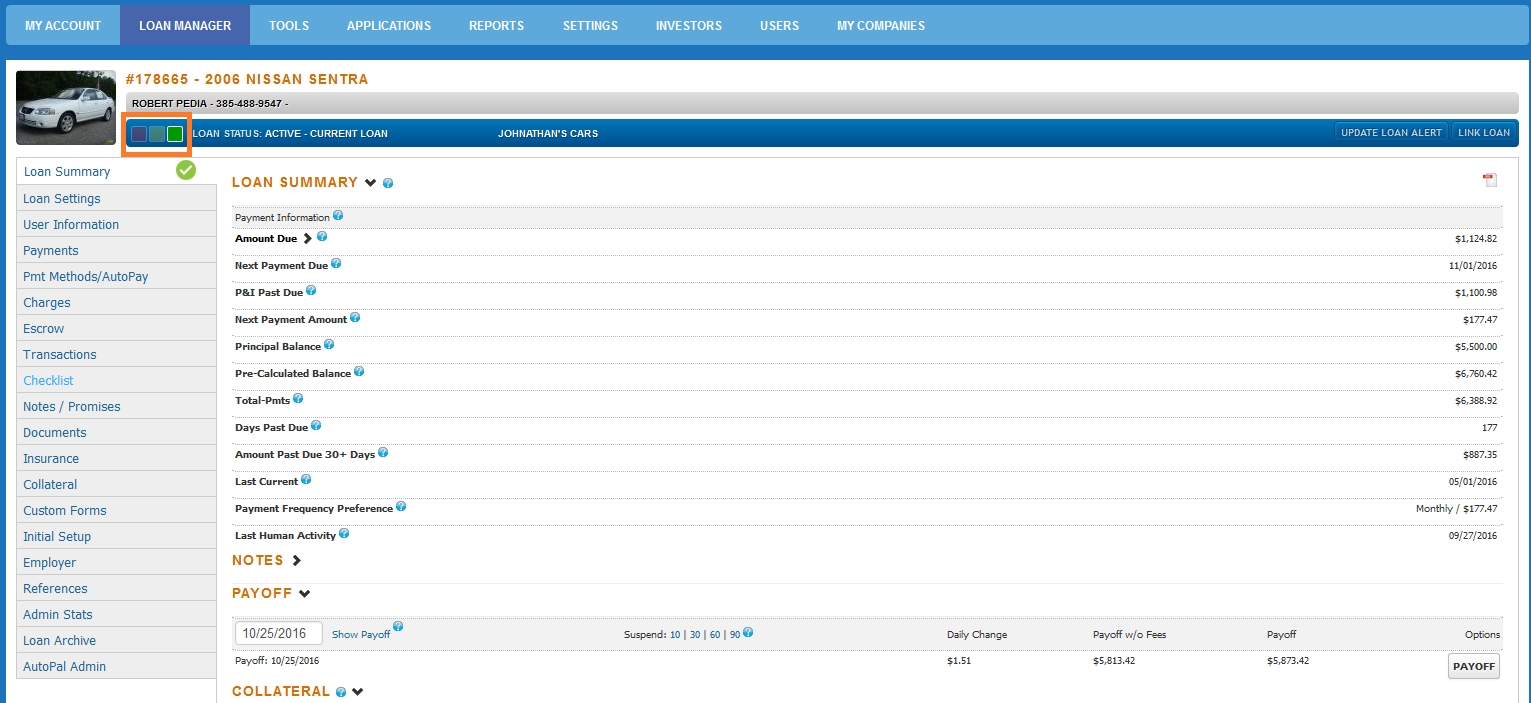 To remove the manual override for a given loan please review the following article: Remove Stoplight Manual Override.
Additional Info
You can view a history of stoplights for a single account in the Loan Archive tab of the individual loan account, or by generating a report in the Admin Stats tab for multiple loans accounts.
If you have questions about our loan management software, or would like to request a Free Trial simply follow the links!
If you like these articles / our software, show your support by following us / sharing our material on social media!