General
This report will provide you a company wide view of your flooring loans. Similar to a delinquency report, however it will show the specific summary per flooring customer specified in the search. "Flooring" customers are a special user type that must be utilized when creating flooring loans in AutoPal. The "Flooring" report is designed to give administrators a quick overview of the flooring portfolio, and flooring customers.
How To
To access the "Flooring" report, select Reports > Servicing Reports > Flooring.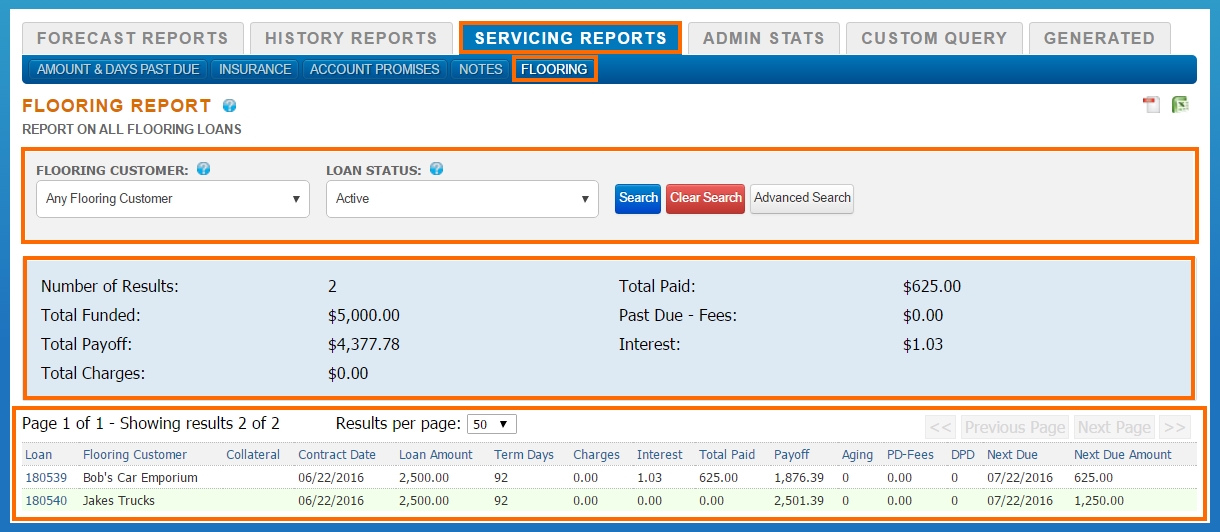 The report is broken into three sections: search restrictions, summary results, and report results.
The basic search restrictions are set by selecting a specific flooring customer, and loan status. The system will automatically default this section to "Any Flooring Customer", and "Active" for the loan status. Leaving the "Flooring Customer" field to "Any Flooring Customer" will generate a list of all flooring loans, and can be used for a portfolio overview.

You can also further restrict search results by using the "Advanced Search" options. These options allow you to restrict your report to specific portfolios, source companies, or delinquency brackets. Once satisfied with the options selected for your report, select the Search button.

Once you have selected the Search button a summary of the search results will populate, directly below that, you will see the report results displayed. The summary will give you a total of each of the columns inside the report itself. The report will include information concerning the breakdown of each flooring loan, and its current standing and performance.