General
AutoPal software works with Credit Manager so that you can report your credit in a comprehensive and easy way.  There are three prerequisites for reporting credit.  First, you need a credit reporting account with at least one of the major credit bureaus. This is different than a credit pulling account.  If you already have an account with one of the credit bureaus, it is most likely a credit pulling account.  The second thing you need is to buy Credit Manager.  Credit Manager can only be installed on Windows computers.  The last thing is to make sure that the Credit Reporting product is activated in the AutoPal Store. Once you have those three things taken care of, you are ready to report credit.
Setup Process:
Credit Bureaus
Getting an account to report credit is not something that is given automatically.  Your company will have to complete whatever process each credit bureau requires in order to sign up with them.  Here is some basic information about the major credit bureaus that may be helpful in deciding which one(s) to sign up with:
AutoPal
Once you install Credit Manager, you will need to follow these steps in order to complete your setup:
Download the .ID4 file and save it on your computer
To do this, navigate to Tools > Credit Reporting inside your company account.
Once there, select the Setup inside of AutoPal
After doing so, this will expand 2 options:  Canada Link File US Link File Please select the button that applies to your location

Once you have downloaded the file, right-click on it and select 'Show in folder'. Once you have the file displayed on your computers file location the easiest thing to do is right-click and select 'Copy' from the drop down menu.
We have found that this is the most difficult step for our clients and because this item has different steps depending on which browser & which version of the browser is being run, it is difficult for us to keep up adequate help material depending on when each browser does updates. Below are 2 GIF examples of how to do so on our recommended browsers.
** To play the video below please click on the screen shot of the browser you are using.***
Firefox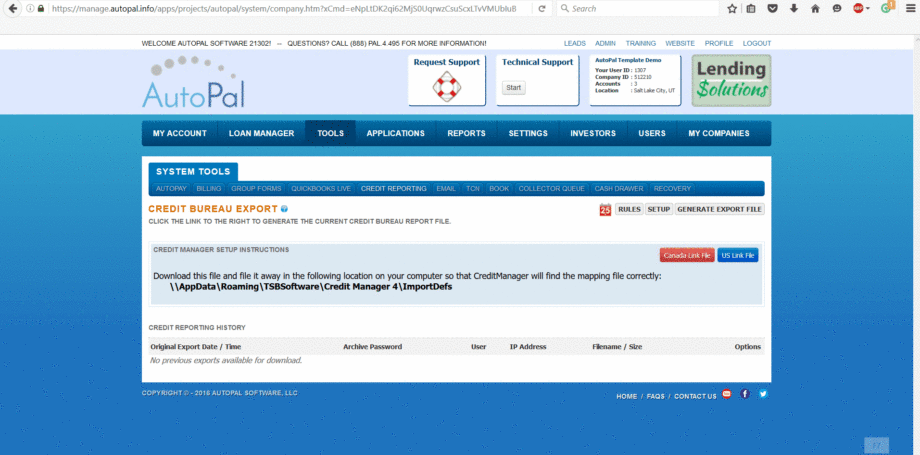 Google Chrome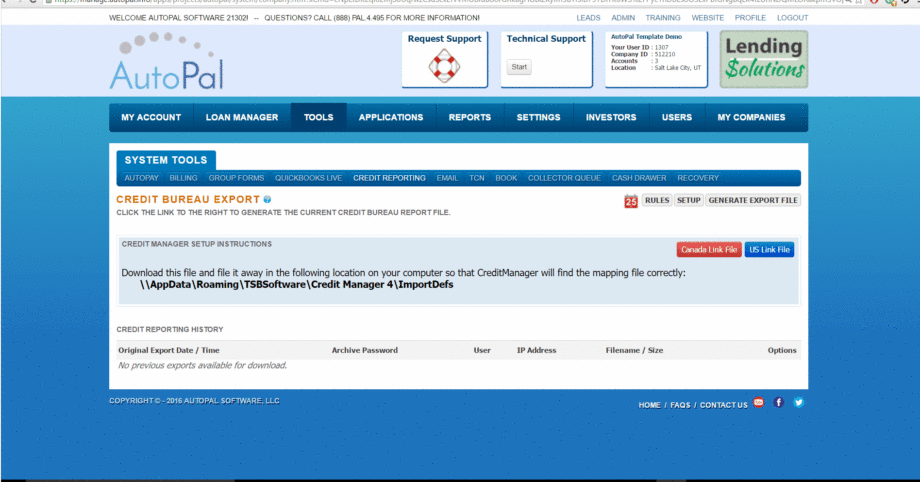 Now that we have the Id4 file on our computer we can now work inside of Credit Manager 4 for the remainder of the setup process.
Credit Manager 4
Open the Credit Manager application on your computer.
First, we'll change one setting to make credit reporting easier.  From the Tools menu, choose Options.
This will bring up a dialog box.
Go to the Options tab.
Make sure the box labeled Clean Data During Import is checked, and click OK.
Now you can import your credit file. Click Import External File.
Click Open in the top left.
Here is where we paste in our Id4 file that we have downloaded and pasted onto our clipboard: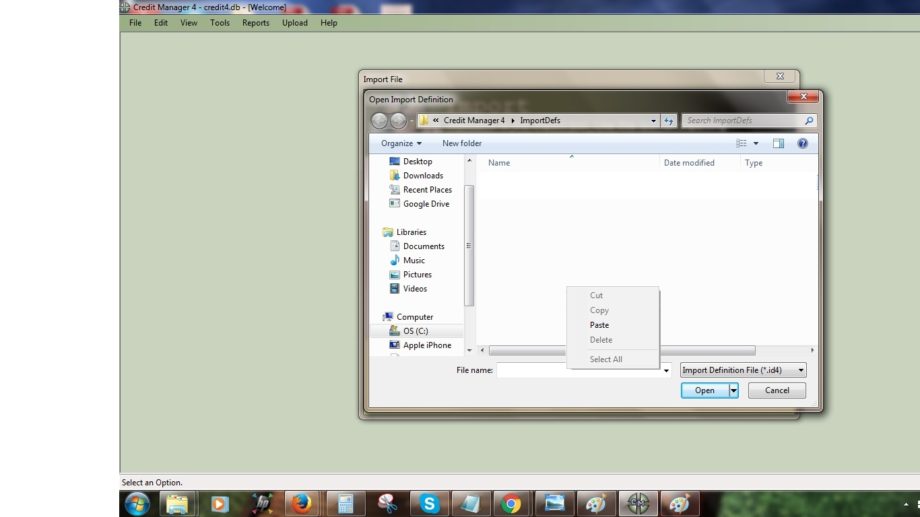 Then we just click 'Open' and Setup is COMPLETE!! Now move on to the Monthly Process below while keeping Credit Manager 4 open in the background.
The steps outlined above are simply a 1 time process and will only need to be done the first time you are reporting to credit. Each month you are reporting to credit you can simply follow the Monthly Process as outlined below.
Monthly Process
AutoPal
To report credit, you will need to export your data from AutoPal.  To do this navigate to Tools>Credit Reporting. Once there, select Generate Export File.
Once the file is complete it will show in the 'Credit Reporting History' of the Credit Reporting tab. We simply need to copy the Archive Password that is displayed, then click the 'Download' button shown on the right-hand side of the page.

Once the file is downloaded we have 2 options of what to do with it:
'Extract' the file without downloading & save it on our computer. The benefit of this option is that you will not have to worry about Excel removing leading zeroes of SSN or Zipcode
Enter in the 'Archive Password' and Open the file. The benefit of doing it this way allows us to manipulate any data if needed.
**Note: If you choose option 2 to open the file Microsoft Excel will drop all leading zeros. This function of Excel could potentially cause you to have incorrect SSN's and Zipcodes. To fix this you will need to format your columns specifically as SSN format or as Zipcode format. For further help on this please view the following articles from Microsoft Office Support:
Credit Manager
Open the Credit Manager application on your computer.
Choose Import External File
Select the most recent import that has been used then click Modify. In this case it is called 'Sample Company Import File' however, yours may be called something else. The key is to choose the file that is already there. If there is NOT a file that is already there then follow the 'Setup Process' located at the top portion of this article.
Click Next >
Click Browse and locate the credit data file you exported from AutoPal.
Select the file and click Open.
Make sure the box labeled My file contains column headers is checked, and click Finish.
Click Save and Continue >
Click "Run" to start your import.
Once the import is completed, you will be asked if you want to see the import log.  This log will show you any errors that were found during the import process. We will have the system look for errors separately from this, so click "No".
Click "Check" for Compliance Errors.
Click "Start Scan."  This will scan your file and find any errors and display them to you.  Once the scan is complete, if you have any errors, the best option is to make changes in Credit Manger 4 then mirror those changes in AutoPal so that you do not run into the same errors next month.  If it is easier to correct errors in bulk, you can make changes to the CSV file you exported and then re-import it into Credit Manager, just remember that if the changes are not made inside of AutoPal, then you will return the same errors the next time you report.  If your scan returned no errors, click Back to go to the main page.
Click "Upload Accounts to Bureaus."  Congratulations! You are done!
If you have questions about our loan management software, or would like to request a Free Trial simply follow the links!
If you like these articles / our software, show your support by following us / sharing our material on social media!