General

Effective promise tracking is an integral part of effective loan servicing. Because each customer's needs are unique, AutoPal strives to make it very easy for your servicing team to accommodate to specific client needs. Promises are a great way of tracking a client's reliability, and can be used as a metric for determining future payment plans with a client. For example, if a client had several failed promises on their account, you will be less inclined to give them leeway for being late.
How To
To record a new promise, simply access the "Notes / Promises" tab inside of a loan account.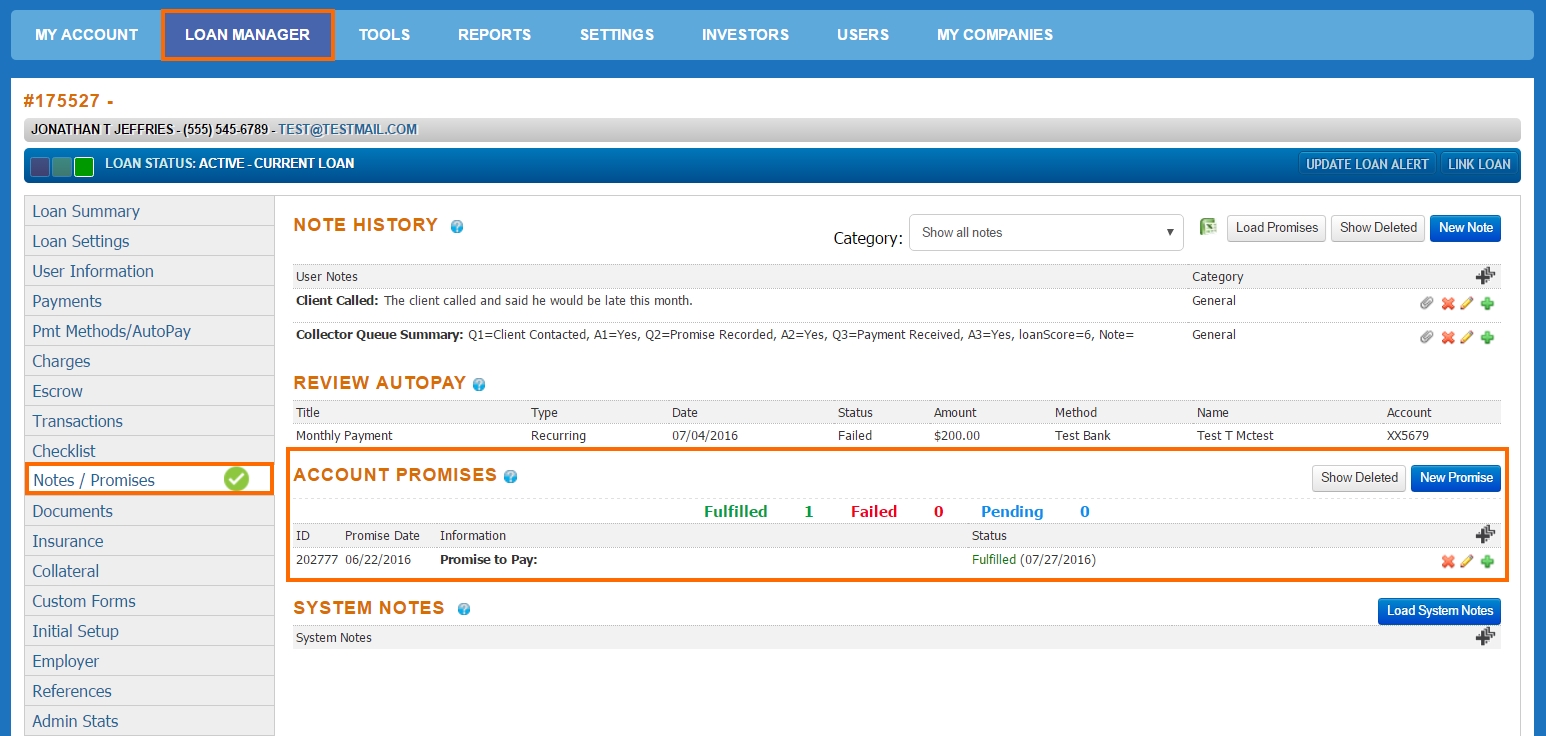 From this page you, will see a summary of all existing promises on a specific loan account. This will give information concerning the status of promises, as well as a historical summary of all promises. To record a new promise, simply select the New Promise button.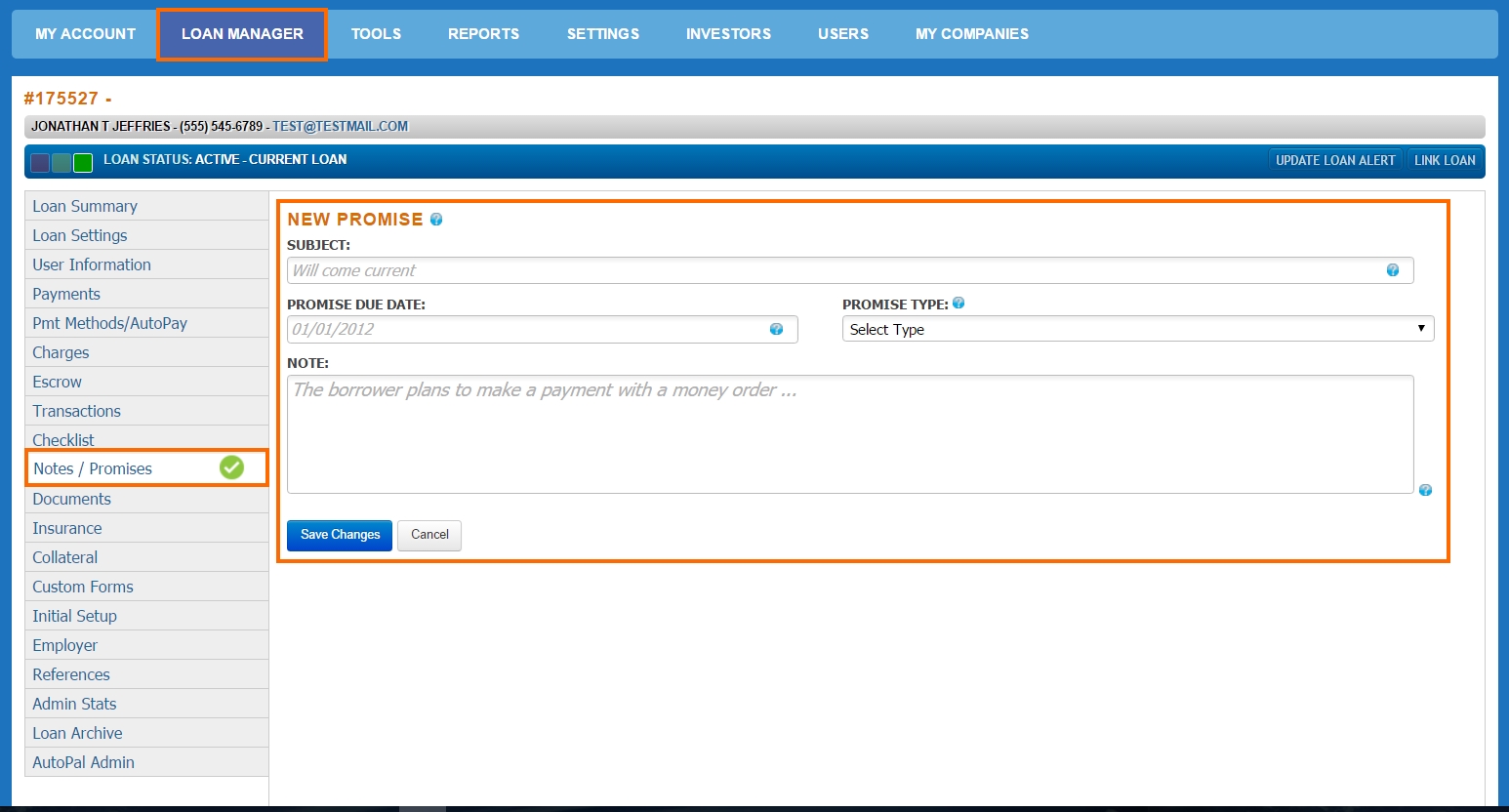 To enter the promise, simply fill in all of the fields on the page. The fields breakdown as follows:
Subject: The "subject" is a title used to differentiate promises from one another
Promise Due Date: This field represents the agreed upon deadline for the promise, even if fulfilled after this date, the promise will be marked "failed"
Promise Type: This field is used to differentiate what the promise is related to, i.e. related to insurance, or payments
Note: This field is used to record notes concerning a specific promise
Select the Save Changes icon to finalize the creation of the promise. Once promises have been recorded, they can be viewed within the loan account, or under the "Account Promises" report. The report is located under Reports > Servicing Reports > Account Promises.
Once saved, you will be redirected to the Notes / Promises tab, where you will see the newly created promise saved, in the promises list.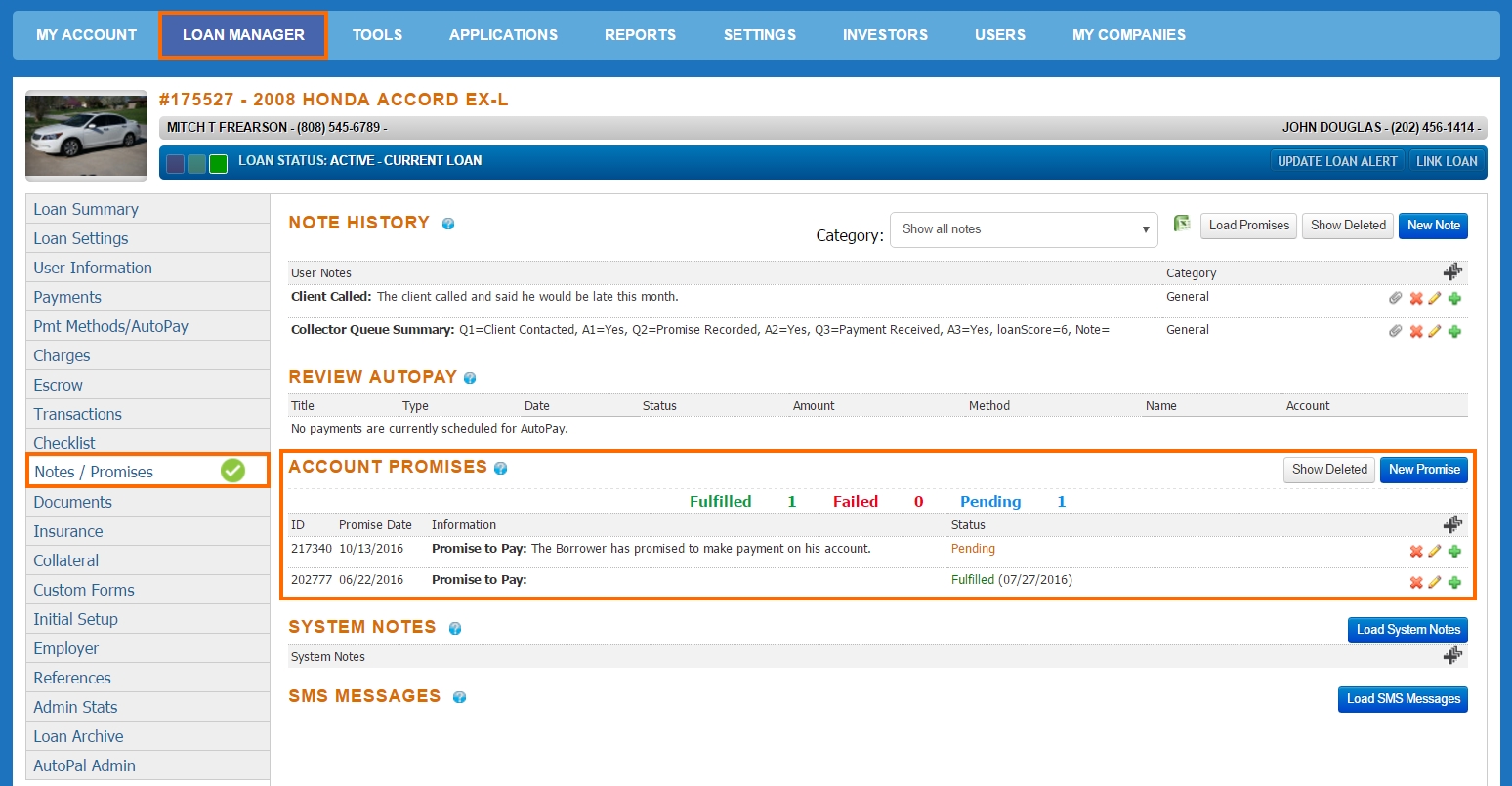 To the right of each promise you will notice a series of tools:

From left to right these tools are:
Delete Promise: By selecting this option, the promise will be completely removed from the list regardless of status.
Edit Promise: By selecting this option, you will be able to reopen the promise entry-menu, and edit any of the information entered during creation of the promise.
Promise Stats: By selecting this option you will be able to expand the statistics saved during the creation of the promise. This will include dates, IP addresses, and times that were logged when the promise was initially created.
Even if a promise is deleted, it is still viewable through the "Delete Promise" icon. By selecting this option, all promises deleted will be pulled up and viewable.
Through utilization of this tab, servicing and recording is made easy!