General
AutoPal has integrated with CredCo (CoreLogic) to allow you to pull your customers credit score. This can be completed in the Loan Origination module, or from within the User Information tab within an existing loan. In addition, the system will allow you to save a copy of the full credit report to the customers account for future review if necessary.
Pull a Credit Score on a Live Loan
To pull a credit score on a live loan, simply access the loan in question, and select the "User Information" tab.

Once on the User Information tab, select the "User Tools" drop down menu to expand the user tool menu.

Select the "Pull Credit Score / Report" option from the drop-down menu, once selected the following popup will appear:
From this page you will be able to select who you would like to generate the credit report for (either the borrower, co-borrower, or both). When ready select the "Continue" icon to move to the next step.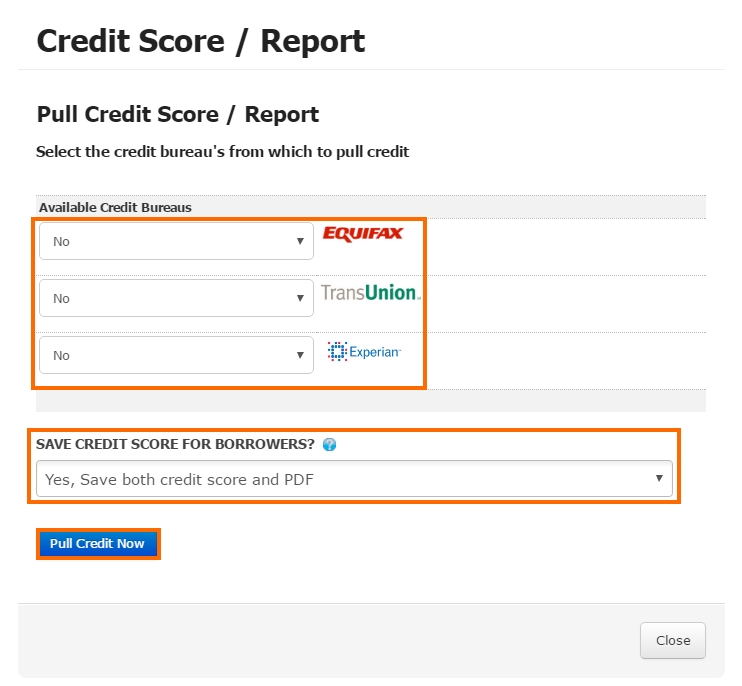 On this page select which bureau you would like to pull a report from, you can select from Equifax, TransUnion, Experian, or a combination of the three. In the "Save Credit Score" field you can select whether or not you would like to save the credit score in addition to the report pdf, or just the report.
When ready, select the Pull Credit Now icon to pull the report!
Please be aware that if there are any errors in the initial entry of the borrower's information, you may not be able to generate a credit report. If there is any type of error with this process, please contact CredCo to ensure your account is configured correctly, as AutoPal has nothing to do with the actual generation of the credit report.