General
Because AutoPal is a large application, and can be used in so many different ways, we offer several different tools, and informational items to help you stay up to date in the platform. The "My Account" tab is designed to give you the ability to quickly access help materials, update billing information, and contact information for third parties.
How To
To access the "My Account" tab, select the "My Account" tab from the option bar. From here you will see a list of accessible tabs on the left hand side of the page.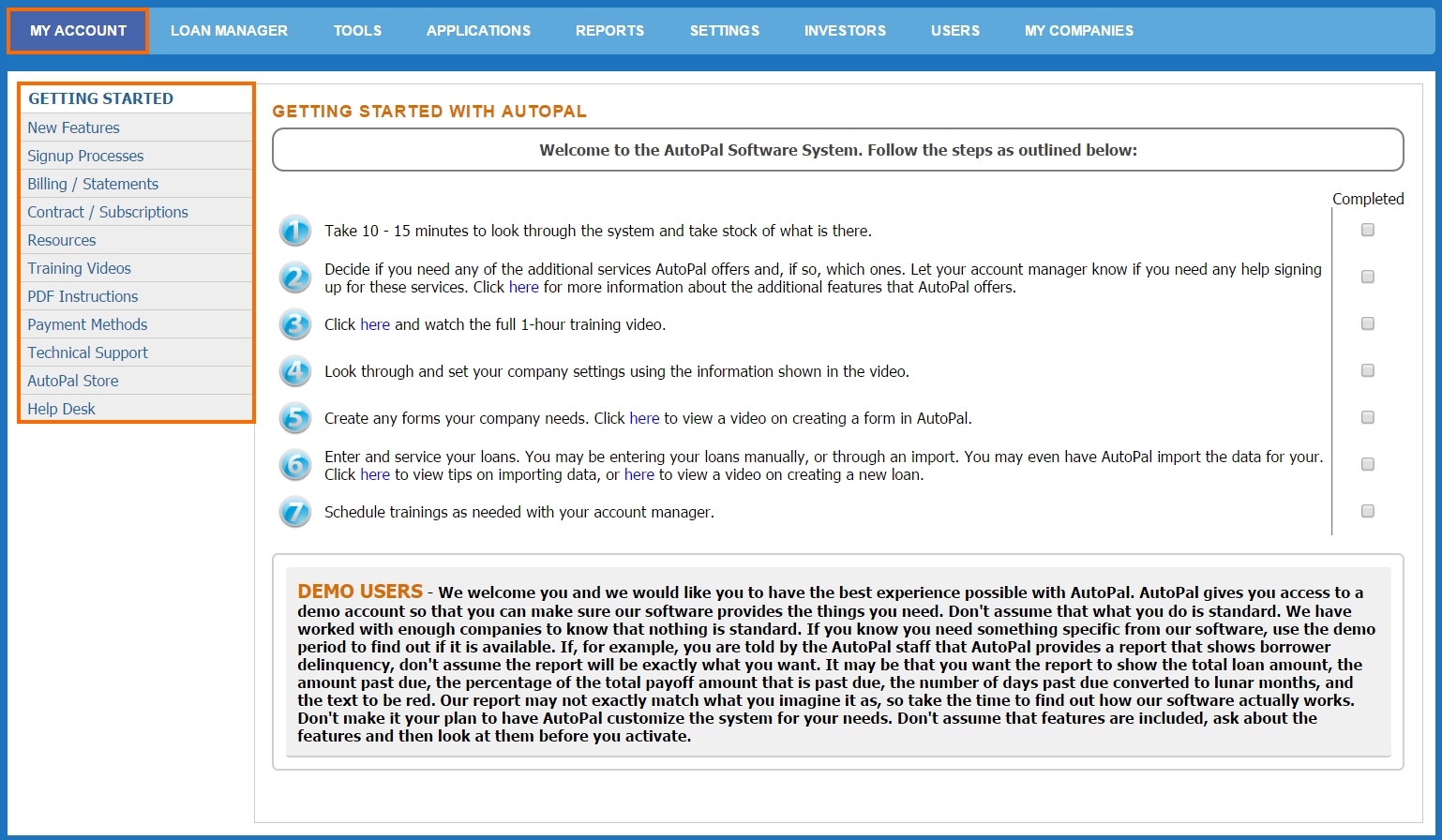 The tabs listed on the side breakdown as follows:
Getting Started – This tab is used as a quick step-by-step reference guide to help get you in the system.
New Features – This tab is used to keep you informed up new updates and features added to the system.
Signup Processes – This tab contains a list of third parties AutoPal works with, including their contact information.
Billing / Statement – Access this tab to download copies of your monthly billing statements.
Contract / Subscriptions – This tab contains a copy of the contract signed during activation of your instance, as well as the contracted terms.
Resources – Use this tab to access links to software related videos and articles.
Training Videos – This tab contains links to our library of training videos. These videos cover nearly every process in the software, and are a great resource for learning the platform.
PDF Instructions – This tab contains PDF files that offer in depth explanations of third party integrations, and business processes.
Payment Methods – This tab is used to update the payment method used on your AutoPal account.
Technical Support – This tab offers a line by line breakdown of your technical support usage, including authorization codes, and time date stamps.
AutoPal Store – This tab is used to purchase additional products currently not in use by your instance.
Help Desk – Use this tab to submit tickets to our support department.
Please access the articles linked above for further information on any of the "My Account" tabs.