General

AutoPal offers all the tools necessary for you to keep your account information up to date. One such area of the software is the "Payment Methods" tab. This is where you will input your desired payment method on file that will be used for the monthly billing process.
Because AutoPal Software is a subscriptions based software, you are required to have a payment method on file.  If for any reason the payment method on file does not clear, your access to the software could be temporarily disabled.
How To
To access the "Payment Methods" tab select, My Account > Payment Methods. From here you will see the following screen: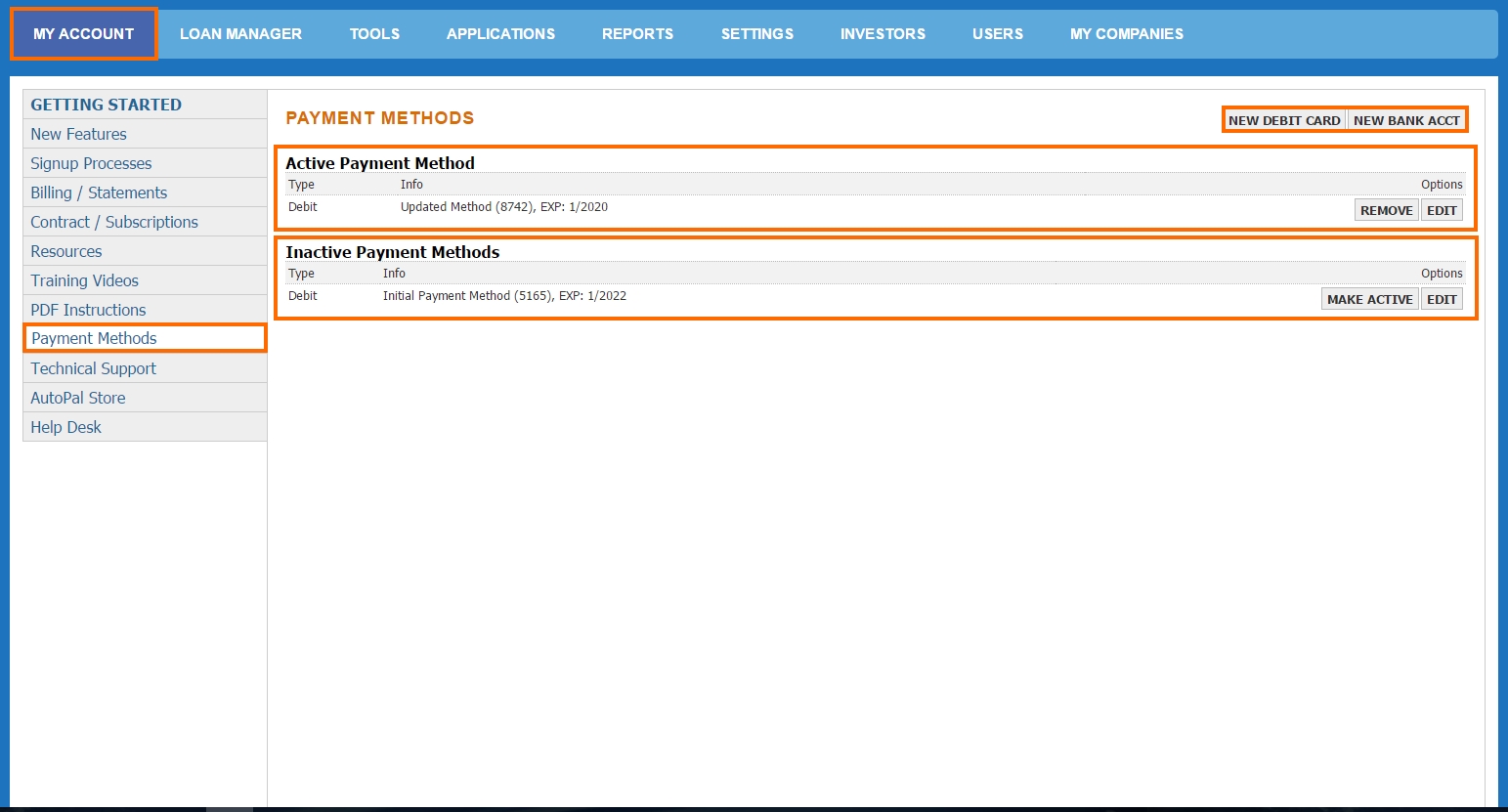 The page is broken into  three easy-to-read sections:
New Card / New Bank Account buttons: Located in the upper right-hand corner of the page you will find two icons used to add new billing methods on file. You can select either the "New Debit Card" button to add a new card on file, or the "New Bank Account" button to add a new eCheck account. When selecting one of the icons you will be met with the following screens:
New Debit Card:

New eCheck Method:

Simply enter your card / account information into the fields on the page, and then select the "Save Payment Method" option at the bottom of the page. Once the payment method has been saved it will become the primary payment method on the account.
Active Payment Method: 
The "Active Payment Method" tab represents the payment method currently assigned to your company account for your monthly automatic withdrawal. The "Remove" icon will remove the active method, and place it in the "Inactive Payment Methods" section. By selecting the "Edit" icon, you will be able to edit the card information. The same processes can be used on existing eCheck payment methods.
Inactive Payment Methods: 
This section is dedicated to previously used payment methods. If for any reason you deactivate a payment method, you will be able to reactivate the method if you wish to use it again for billing.