General
The "Contract Subscriptions" page contains a copy of the SaaS agreement that was signed during activation of your instance, as well as pricing breakdowns for the product. This page can be used as a quick reference if you have any questions regarding the terms of use and pricing.
How To
To access the "Contract / Subscriptions" page please select, My Account > Contract / Subscriptions.
From this page, you will be greeted with the following screen: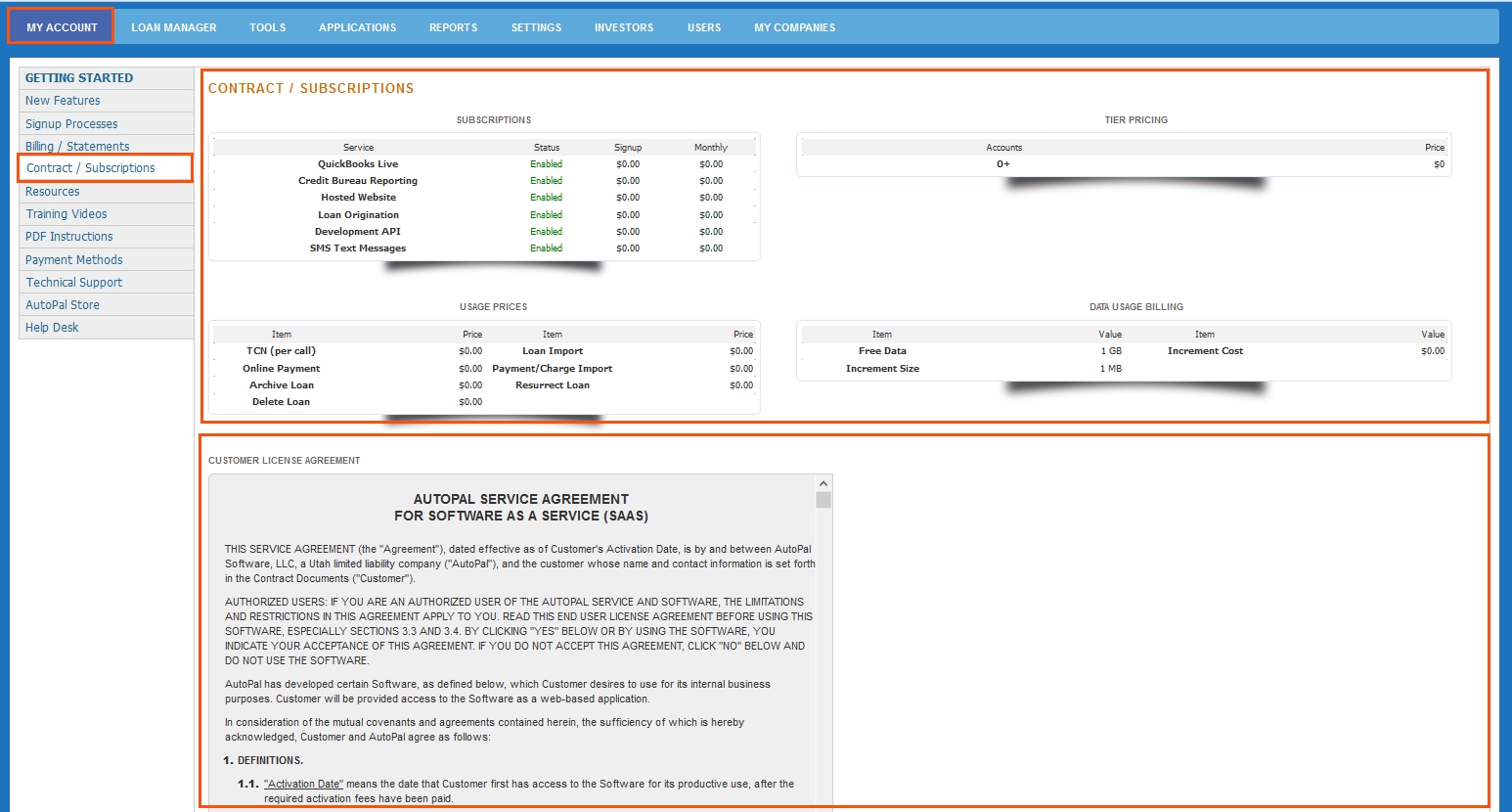 The tab itself is broken into two primary sections: the product pricing information, and the Customer License Agreement signed during activation.
Pricing Information: pricing information is broken into the following categories: Subscriptions, Tier Pricing, Usage Prices, and Data Usage Billing (please note that your particular instance will have different values in these sections, the values displayed here are from a demo company within AutoPal, and are in no way indicative of actual pricing).
Subscriptions: Subscription based products are add-on products to your AutoPal instance. These are not necessary for you to service loans in anyway, but may make certain aspects of loan servicing easier. Generally, subscription based products will have some form of a signup fee, as well as a monthly charge.
Tier Pricing: Tier pricing is based on the number of live loans currently in your company account. This makes up the "Core" component on your billing statement. As more loans are entered into the system, the tiers will climb, and cost will increase.
Usage Prices: Certain products and features in AutoPal are charged based on use. Items in this section include Loan Imports, Loan Deletion, and Technical Support use.
Data Usage Billing: AutoPal gives you the ability to store documents, images, and other items on our database. Generally, there will be a free amount of storage included in your purchase.  Once the free amount has been surpassed, your account will be charged monthly for additional data usage.
Customer License Agreement: This section gives you a copy of the AutoPal Service Agreement for A Software as a Service. This is the contract that was signed during the activation process, and is located here for you to review at your discretion.