General

The AutoPal Store tab allows you to purchase additional modules and products that you may not be using currently. AutoPal gives you the ability to configure your instance to best fit your needs. As such, there may be tools and additional modules that may not be necessary for your loan servicing as of the current date. However, the additional modules can be added as they become relevant and your company expands.
How To
To access the "AutoPal Store" please select, My Account > AutoPal Store. You will be greeted with the following screen: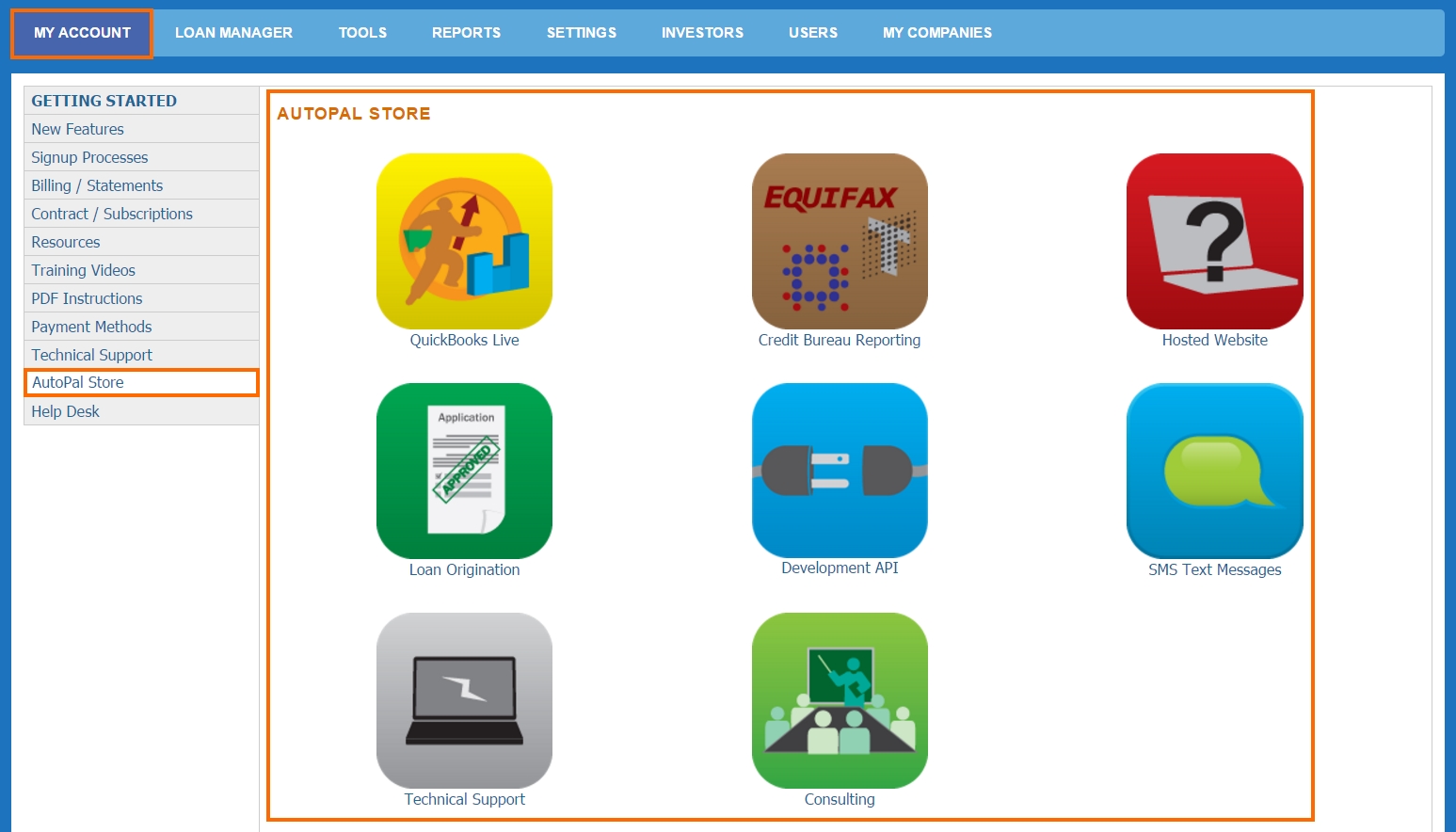 As shown in the above image, AutoPal offers several add-on packages that you may not be currently utilizing. A brief description of these modules follows:
QuickBooks Live: The AutoPal QuickBooks integration is the most cutting-edge, time-saving integration of its kind that is available on the market. This integration will post payments, post charges, create invoices, track discount income, remove reversed payments, remove reversed charges, create funding checks, create customers, create loan notes receivable, etc. This integration can take the place of an employee, and will definitely save you time and money. Unlike most systems where you have to record transactions and then either use an inferior general ledger, or transfer your data manually to a better ledger, the AutoPal QuickBooks integration will sync your AutoPal information with QuickBooks as often as you want, up to once a minute.
Credit Bureau Reporting: AutoPal has partnered with TSB software to give you as much credit reporting functionality possible with the Credit Manager product. Through AutoPal's integration with Credit Manager, you can easily check that your credit information is up to date and free of errors. Once you have transferred your credit information to Credit Manager, you will be able to check it, correct errors and upload it to your chosen credit bureaus in a matter of a few minutes. Credit reporting for hundreds or even thousands of accounts should take you less than an hour a month. If you are purchasing this product, make sure you have your customer numbers, and the names and phone numbers of your contacts at your chosen credit bureaus on hand.
Hosted Website: Take the work out of your web presence and use AutoPal's hosted website. Let AutoPal provide you with the only customer-facing website you will ever need. AutoPal's website is directly integrated with the AutoPal system, so when borrowers login, they view the most up-to-date information on their loans. Plus, you are free to customize this website any time and it can be created instantly. So forget about expensive, time-consuming web development, and calling your developer every time you want to make a minor change. With AutoPals website and integrations, your customers can fill out and submit applications, correspond with you through the entire underwriting process, manage their accounts, update insurance information, make loan payments, add payment methods, etc. Don't want your customers to have all this functionality? With the AutoPal website you can easily turn on or off any feature so that your customers see only what you want them to see.
Loan Origination: Whether you want to switch from paper to electronic applications, or you want to originate and manage all of your loans without a store-front, the AutoPal Loan Origination tool is for you. With this tool, individuals or dealerships can sign-up and submit applications on your AutoPal Hosted Website. You can go through the entire origination process with your applicants, including sharing documents and loan forms, requesting information, sending notes, etc. The entire process can be connected to your email so you will receive notifications whenever an application event occurs. Once an application is approved, you can easily convert it to a loan inside of AutoPal.
Development API: The AutoPal Development API will let you integrate applications you create with AutoPal Software. You can now program your own front-end interface and let AutoPal do the heavy lifting of calculating loans, storing your information, processing your payments, and much more. You can use the API to send a loan, borrower, collateral, and a lot of other data directly to AutoPal without any human input required. If your company needs a custom solution, you can now create the front-end yourself and use AutoPal to power it.
SMS Text Messages: AutoPal has integrated with Solutions By Text to bring you two-way text messaging. This service will allow you to send out mass texts to any group of your borrowers. Borrowers will then be able to respond to your text messages and the textual conversations will automatically be recorded in the notes of the borrower's loan account.
Technical Support: Have a question you really need answered? Call AutoPal technical support, where you can speak to a member of our knowledgeable staff. Our technicians can answer questions about how to complete your tasks inside the AutoPal system. But that's not all, we choose our tech support carefully, so that whenever you speak to a member of our support staff, he or she will have a background in accounting, business, and in the lending industry.
Consulting: Are you looking for up-to-date, relevant information about your business, the type of loans you give, or industry best practices and procedures? The consultants at AutoPal have the experience and information you need. Our consultants have all had a minimum of two years experience in the lending industry and have been through everything from business setup, filing taxes, obtaining licenses, day-to-day lending operations, etc. If you need information about anything related to business or your industry, sign up now for time with AutoPal's consulting team. We will answer any questions you have, even the ones you don't know you need to ask!