General

The User Information tab is used to record customer information inside of AutoPal.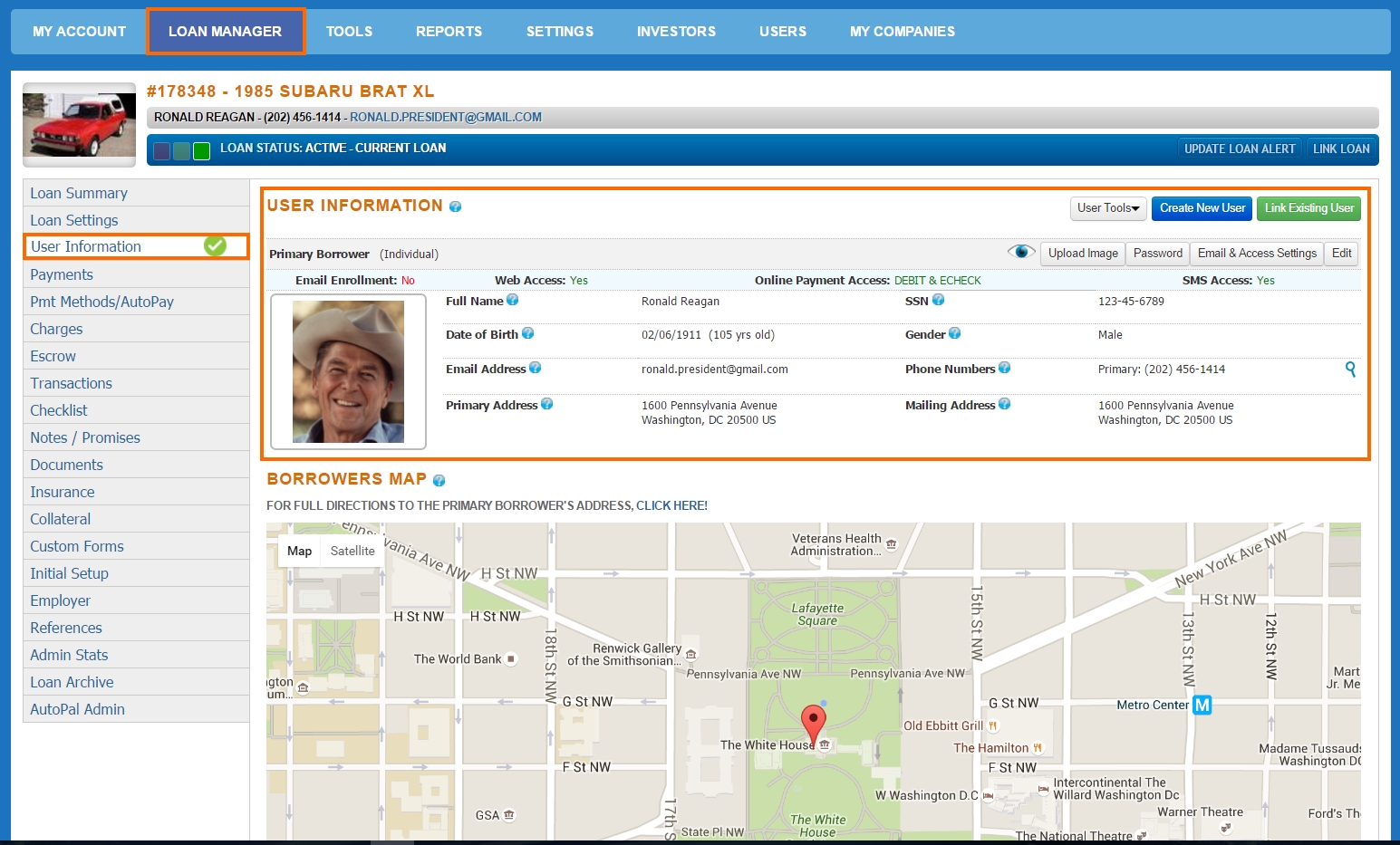 Information
The "User Information" tab is broken into a couple of primary areas.
First you will notice a section dedicated to borrower information recorded during the creation of the Borrower User.  It is composed of the following information: Full Name, Date of Birth, Email Address, Primary Address, SSN, Gender, Phone Numbers, and Mailing Address.
To edit any of the basic account information entered during borrower creation, select the Edit button located on the upper right hand side of the page.
Email & Access Settings
AutoPal Software gives you the ability to control and limit a customer's ability to access the end user website, limit the types of payments they can make, and whether or not they are enrolled to receive automated emails. By selecting the Email & Access Settings button.  Once selected, you will be greeted with the following page:
From this page you can update a clients email address, and select whether or not they are enrolled for certain services. Once you are satisfied with your selections, simply select the Save Changes button to finalize your changes.
Password
The password icon will take you to a page allowing you to edit a client's password to the end user portal. You can also email the password directly to the client through this page.

Upload Image
The upload image option allows you to upload an image file of the borrower. This feature allows you to put a face to the borrower, which you may find helpful when servicing the loans.
Borrower Assignment
There may be instances during the loan life cycle where an additional borrower needs to be added to a loan account. To facilitate these changes you can use either the Create New User, or Link Existing User.
User Tools
The user tools tab allows you to select from user specific tools such as OFAC compliance tests, and credit pulling.