General
One of the most important parts of lending is accepting payments. Many of the features inside AutoPal are based around this concept. The purpose of this article is to give an overview of payments tab inside the AutoPal system. You will also find links to other relevant articles that focus on specific aspects of payments, and their settings.
Payments in a Loan/Lease Account
In order to see a list of payments for a particular loan or lease account, simply access the "Payments" tab located on the left-hand column of the individual loan account.

This page is designed to give you all the information necessary for the payments that have been logged on the individual account. Located in the "Payment Summary" section, you will find a summary of all payments applied to the loan account, broken down by payment type with summary totals. Payments that are "active" are blue, while edited payments are light green and reversed payments are pink. You can select any payment directly to receive more in-depth information concerning the individual payment.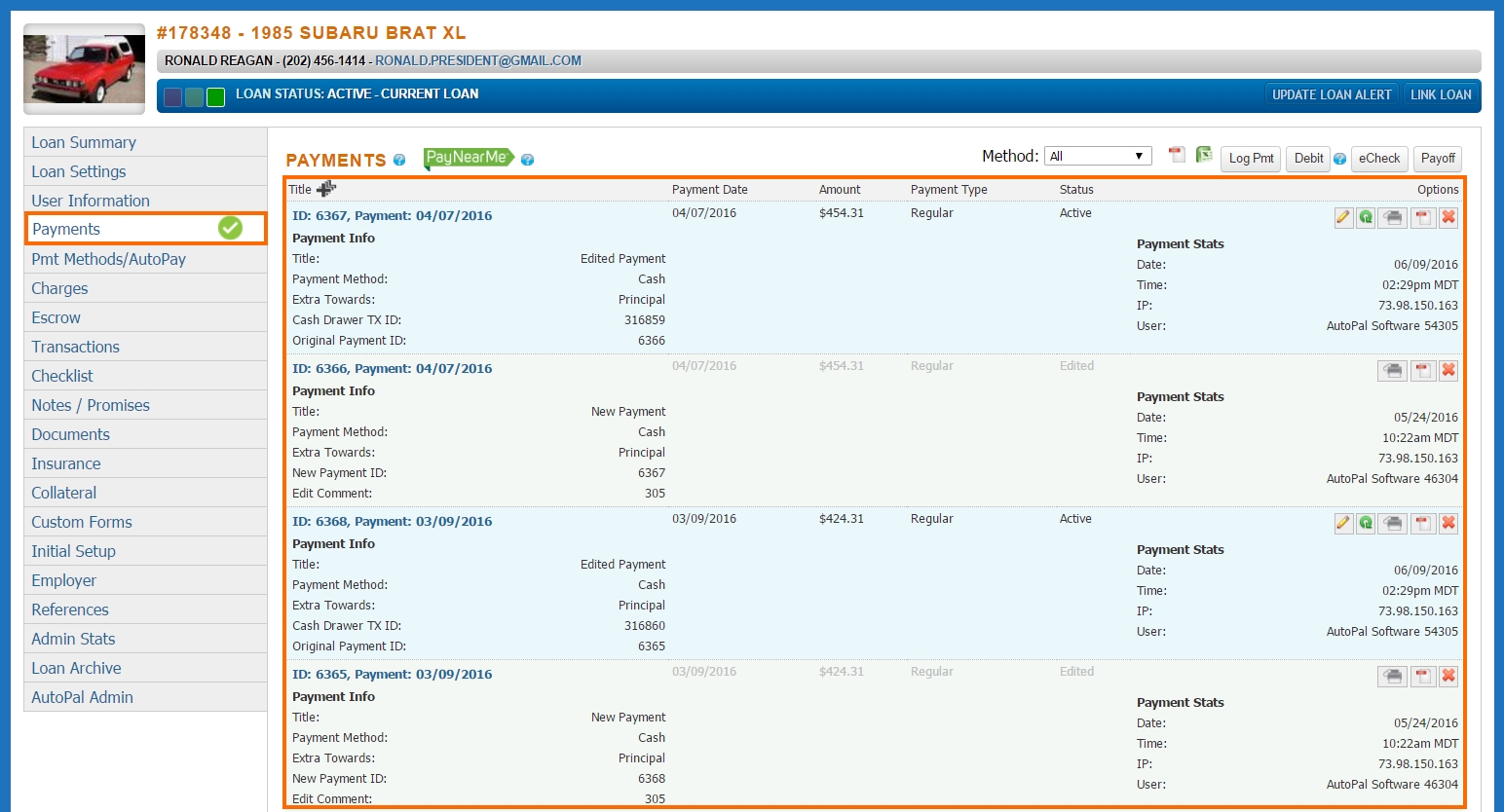 The expanded payment will give you information concerning the original post date of the payment, who logged the payment, and what payment type was selected. For further information concerning the application of payments, please review the following article: Payment Waterfall Application.
To the right of each active payment, you will also notice a series of payment specific tools.

From left to right, these tools are:
Edit a payment: This allows you to access an existing payment and change any terms that may have been entered incorrectly
Reverse a Payment: This tool facilitates the reversal of a payment. Please note that this will not delete the payment, and reversals will still appear on the "Payments" tab, though they will not apply to the loan
Send Receipt to Google Print: If you are setup with Google Print, you can use this icon to send a copy of the receipt to the Google Print integration.
Generate a Receipt PDF: This icon allows you to generate a PDF receipt for a specific payment. The receipt itself is configured in the Settings > Company Management > Payments tab.
For further information on Payment Posting, please review the following articles: Log a Standard Payment, Log a Debit Payment, Log an eCheck Payment, Log an EBT / EFT payment, Log a Payoff Payment, Log a Charge – Off Payment, Create a New PayNearMe Order.
Automatic Payments
Automatic payments are referred to as AutoPays in AutoPal. If you are processing payments through AutoPal's Authorize.net integration or through one of our integrated eCheck processors, you can set payments to run automatically. Payments can be processed on a number of frequencies, or you can choose to have them run on specific dates. For further information on AutoPays and their configuration please review the following article: AutoPay Overview.
Payment Reports
While the payments tab inside a loan account will give you good information about the payments on that specific account, you will also want a report of payments on all your company accounts. AutoPal offers a full reports suite that allows you pull payment history. Simply select Reports > History  > Payment Breakdown or Reports > History > Payment Log to generate reports pertinent to payment information. For further information on payment specific reports within AutoPal please review the following articles: History Reports – Payment Breakdown, History Reports –  Payment Log.