General

The Notes / Promises tab is dedicated to giving you a quick view of all notes assigned to a specific account. It should be noted that there are multiple note types saved in this section, ranging from system generated notes, to servicing user recorded notes. Through these notes, it becomes very easy for you to audit your servicer's day-to-day interactions with your clients.
How To
To access the Notes / Promises tab select the "Notes / Promises" icon from the left-hand side of the page.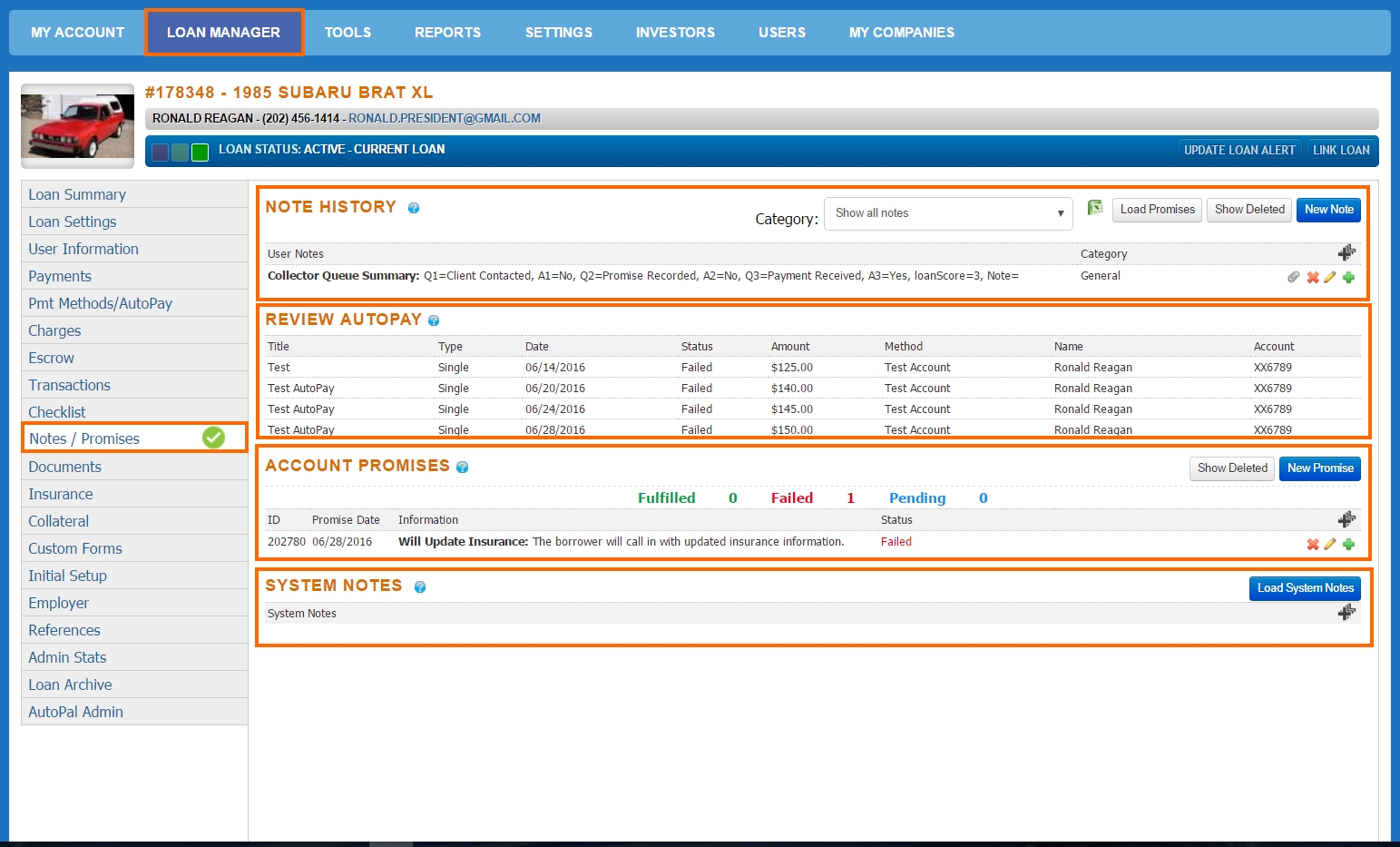 The Notes / Promises page is broken into four areas:
Note History – This section includes all notes recorded by servicers, and through collector queues. The notes in this section are generally utilized to review previous interactions with specific clients, and it is good practice to record notes in this section after every interaction by selecting the New Note button. The icons to the right of each note allow you to attach documents, edit notes, or display note information.
Review AutoPay – The "Review AutoPay" section allows you to audit previous AutoPays. These are historical values, and are recorded in chronological order to make it easy to see when changes, or failures, occurred.
Account Promises – Account promises are a special type of note that is used to represent a commitment made by the client. Whether this is a promise to make payment or to provide insurance information, the promises recorded in this section are an invaluable asset. Promises have three statuses: Fulfilled, Failed, and Pending. Keeping promises updated allows you to easily audit accounts.
System Notes – AutoPal is constantly backing up data and performing system processes. In order to make those processes as transparent as possible, we offer a full log of all changes made on an individual account level. The system notes will also record changes made by individual servicing users.
For further information on any of the above sections, please refer to the hyperlinks above.