General

The Summary tab inside a loan is designed to give you a quick overview of the loan data.  This article will go over the data available to you on the Summary tab.
Sections
The Summary tab can be found inside of any loan or lease account.  The tab itself is divided into five sections: Loan Summary, Notes, Payoff, Collateral, & Insurance (please note that there are some loans that do not have Collateral or Insurance.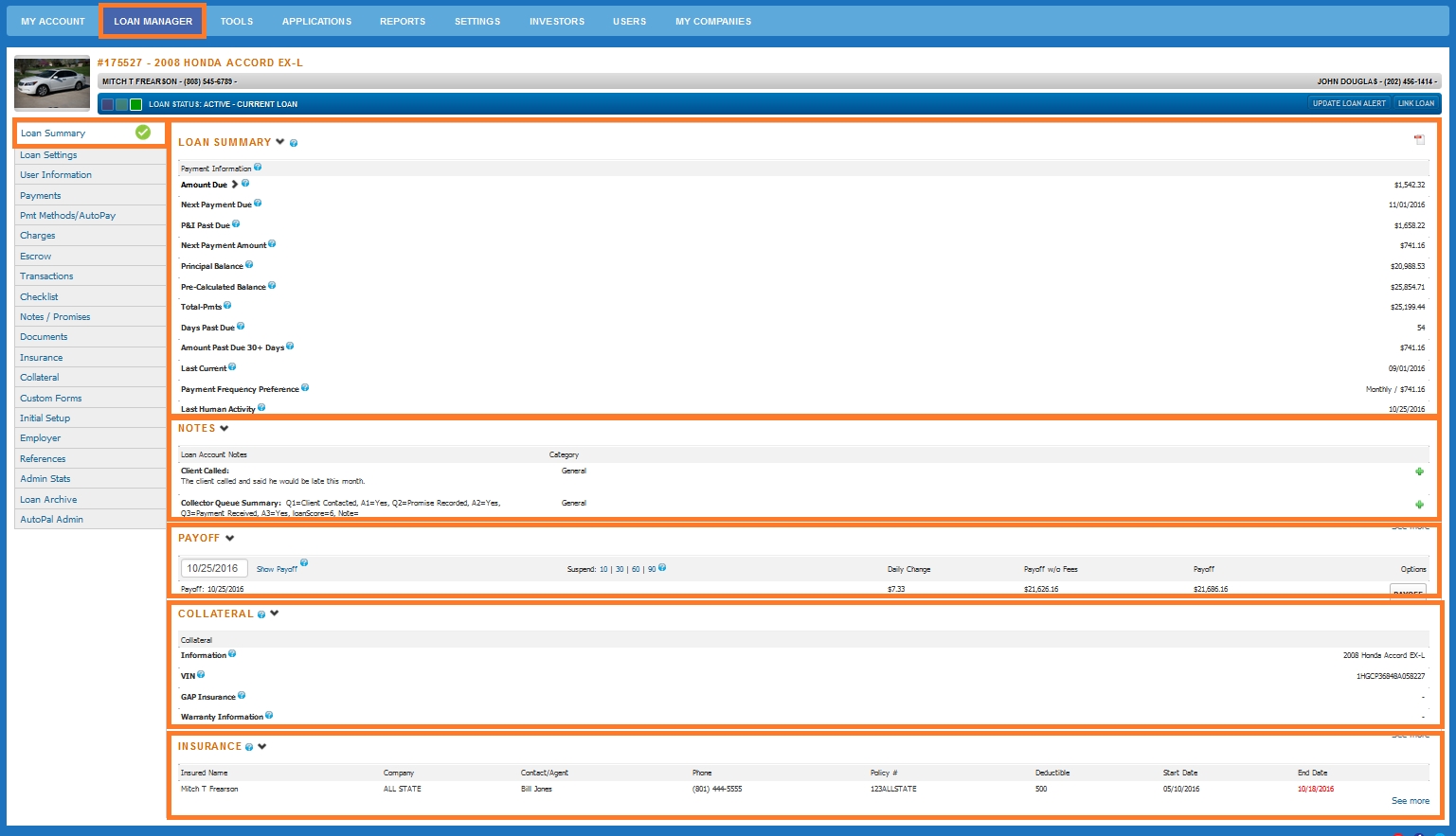 Loan Summary 
Amount Due – This is the amount that is currently due on the loan.  If you click the label, a breakdown of the amount due will be shown.
Next Payment Due Date – This is the next date on which a payment will come due.  This will always be a date in the future.  This is not the furthest in the past payment that was missed on the loan as many people assume.
P&I Past Due – Total unpaid principal and interest that has accrued on this account. This takes into account principal & interest that has come due since the last payment was made, so this number may be larger than the Amount Due in the event that the loan has deviated from the initial schedule.
Next Payment Amount – This is the amount of the next payment that will come due on the account.
Principal Balance – This is the current remaining principal balance on the loan.
Pre-Calculated Balance – This is calculated as the current Principal Balance Plus Forecasted Remaining Interest.
Total Pmts – This is the Total of Payments from the Reg Z subtracting the summation of payments that have been applied to principal, interest, and discount.
Days Past Due – This is the number of days the account is past due.
Amount Past Due 30+ Days – This is the amount on the account that has been past due for at least 30 days.
Last Current – This is the most recent date on which the account was current.
Payment Frequency Preference – The standard payment frequency and standard payment amount for this loan.
Last Human Activity – Last human activity on loan date. This date is the most recent date that a human made an update to this loan account.
Notes 
The notes section lets you view notes that have been added to the account and also lets you view and update the loan alert.
Payoff
The payoff section lets you view the current payoff, or the payoff starting on any date you enter in the provided field.  For more information on how to process a payoff payment, suspend a payment, or quote payoff for a given date, see Pay Off a Loan.
Collateral 
The collateral section lets you see some basic information concerning the collateral assigned to the loan account.
Insurance 
The Insurance section gives you a quick reference to insurance information assigned to the loan account.  If the borrower's insurance has expired, the End Date will display in red.