General

Keeping track of signed documents, and loan paperwork is integral to effective loan servicing. AutoPal makes it very easy for you to store loan specific paperwork, or other documents directly to a loan account inside the software. The "Documents" tab also makes it easy to organize, and quickly recall documents as well.
How To
To attach a document to an account, access the loan account in question and select the "Documents" tab from the left hand column. When selected, you will be greeted with the following screen: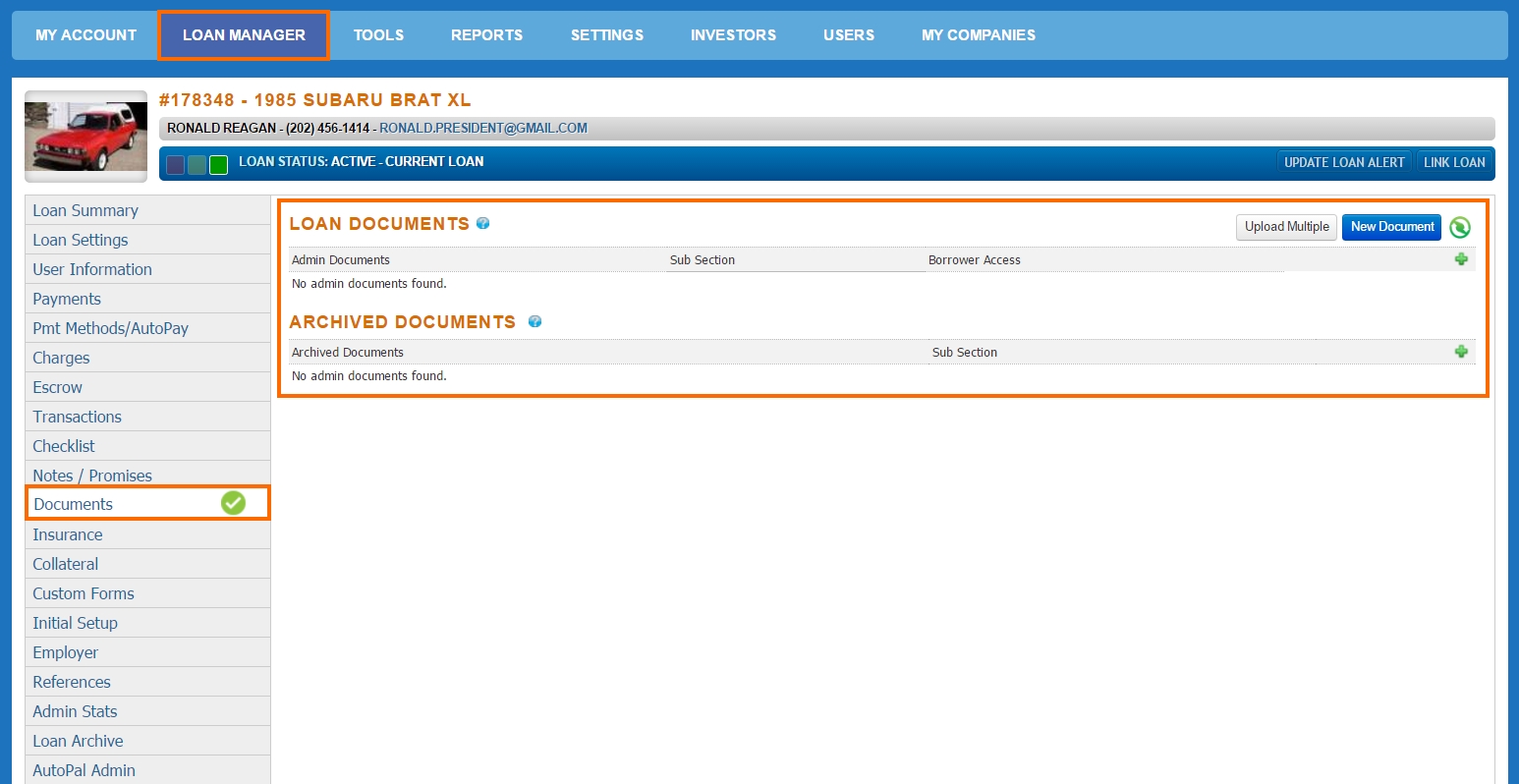 From this page you will see the following options: Upload Multiple and New Document buttons.
Upload Multiple
The "Upload Multiple" option allows you to queue multiple files for a bulk upload. When you select the "Upload Multiple" icon you will be greeted with the following screen:

From this page, simply select the "Upload Documents" icon, which will allow you to select documents saved on your computer. Once you have selected all documents relevant to the account, simply select "Save Documents" to upload the documents, and finalize the attachment.
New Document
Allows you to input a single document at a time for upload to an account. When selected you will be greeted with the following screen:

From this point, simply select the category fitting of the document. Once selected, two new buttons will appear on the screen: Choose File and Upload. Select "Choose File", and locate the file on your computer. Once the file has been located and selected, click the upload icon to finalize the upload and attachment.
Reviewing Uploaded Files
Regardless of the method chosen for upload, the files will display in the same fashion on the documents tab.

From this page, you will have several document controls.
Borrower Access: Show selecting this icon will allow you to turn on or off a customer's ability to view the document through the end user website.
You will also notice a series of icons to the right of each document.

These controls allow you to make specific changes to documents, listed left to right they are:
Download: This icon allows you to download a copy of a previously uploaded document.
View: This will pull up a preview version of the document / image in your browser.
Edit: This option allows you to edit the title, or description of an existing document or image.
Delete: Selecting this option allows you to remove an existing article from the "Loan Documents", to the "Archived Documents".
Statistics: This icon allows you to open up the stats for a specific document, this will include information like the upload date, and original uploader.
Archived Documents
Located below the "Loan Documents" is a section titled "Archived Documents", these are documents that are no longer considered active on the loan. For your convenience, these documents are still downloadable or viewable, despite no longer being "Active" on the account.