General
Charges are an integral component to successful loan servicing. Charges or fees inside AutoPal Software are amounts assessed on a loan or lease outside the repayment schedule.  Charges can be assessed in many ways, some of which are designed for specific purposes.  You can manually log a charge, set up regularly recurring charges, configure automatic late fees, charge convenience fees, etc.
Charges can be configured to be paid either by payments made after the charge date, or payments made within the same payment period in which charges fall.  You can also set up the waterfall application for payments inside AutoPal to determine how payments should apply to charges.
Knowing how charges work inside AutoPal can help you do some unconventional things with our software. For example, companies will often schedule recurring charges inside AutoPal in order to assess a fee within each payment period.  It's important to note that while you can do this, the fees won't actually be assessed until either a specific day of the month, or within some number of days of when each payment comes due.  This means that you won't be able to see a payment schedule that shows a fee in each period since each fee will be assessed in the future. Being able to easily track your charges regardless of type is imperative to successfully using AutoPal. Because of this, we offer a "Charges" tab that is unique to each loan.
For more information on other charge types and setups, please see the following articles: Recurring Charges, Charges Report, Edit a Charge, Reverse a Charge.
How To
To access the charges tab, access the loan account in question, and select "Charges" from the left-hand column.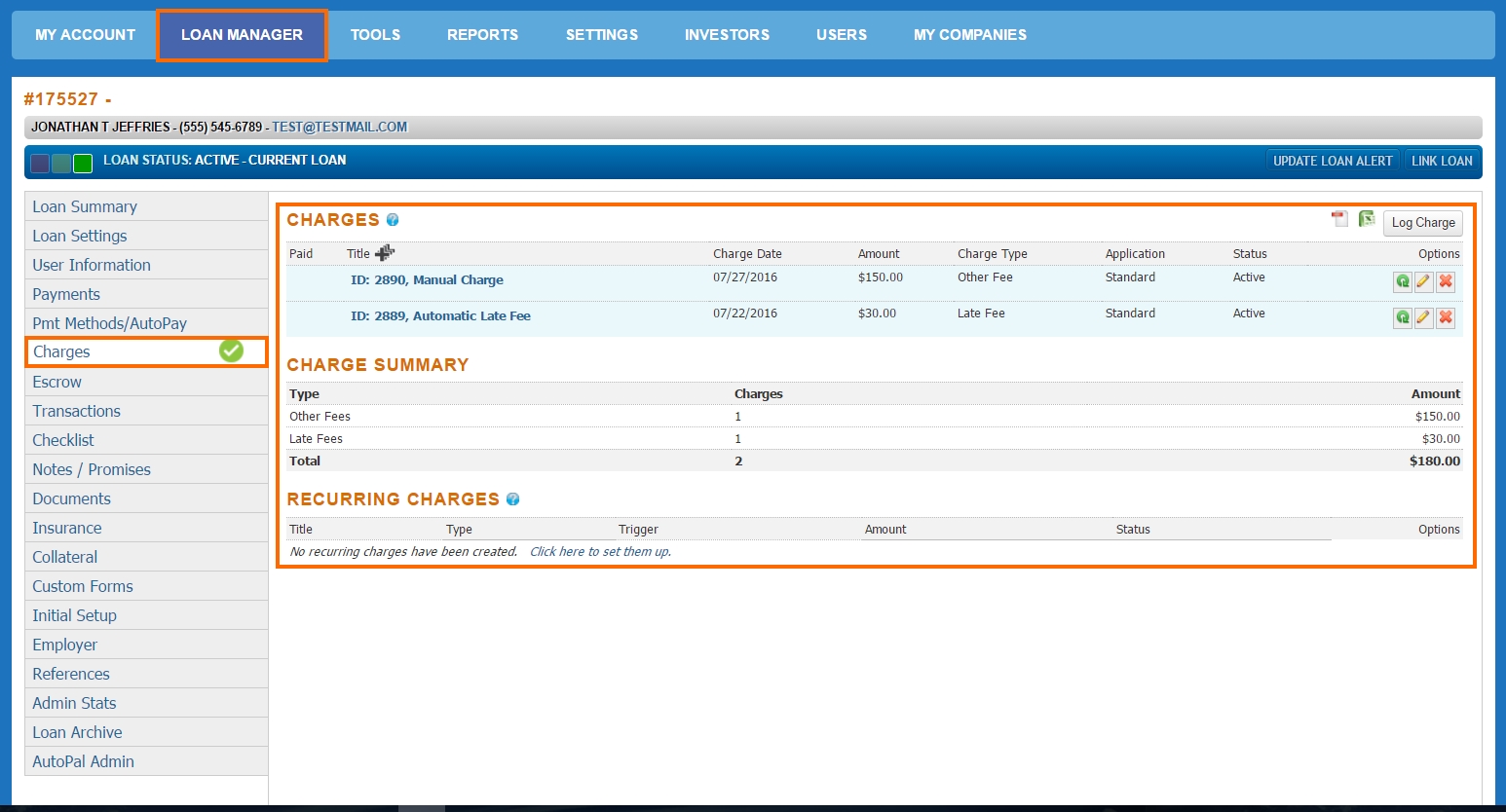 The charges tab is broken into three areas:
Charges: This section gives you a breakdown of all fees applied to a specific loan account. Inside this section you will be presented some basic information concerning the charge, including:

 Paid: This field designates whether or not a specific charge has been paid or not.
Title: When a charge is recorded, the system gives you the ability to assign a specific title to each charge. This can be used to make it easier to tell different charges apart.
Charge Date: The date the specific charge was recorded.
Amount: The amount of the specific charge.
Charge Type: There are several different charge types available in the system, different charge types can be used to designate different types of charges.
Application: AutoPal offers two different types of payment application for your loans, "Standard" means the fee will be applied towards the account on the "Charge Date". "Payoff Only" means that the fee will only be applied upon payoff, and will not be covered until a payoff payment or a payoff fee only payment has been made.
Status: This column represents whether the charge has been reversed, or is actively applying to the loan.

Charge Summary: This section provides a breakdown of charges based on Fee Type, and provides the amount and total of charges.
Recurring Charges: Recurring charges are a special type of charge that allows you to apply charges based on a trigger event. You will also have the ability to toggle specific recurring charges on or off from this page.
You will also notice a series of tools aligned on the right-hand side of each charge. These tools give you the ability to reverse, and edit existing charges.
By selecting any charge, the charge will expand and present history / stats.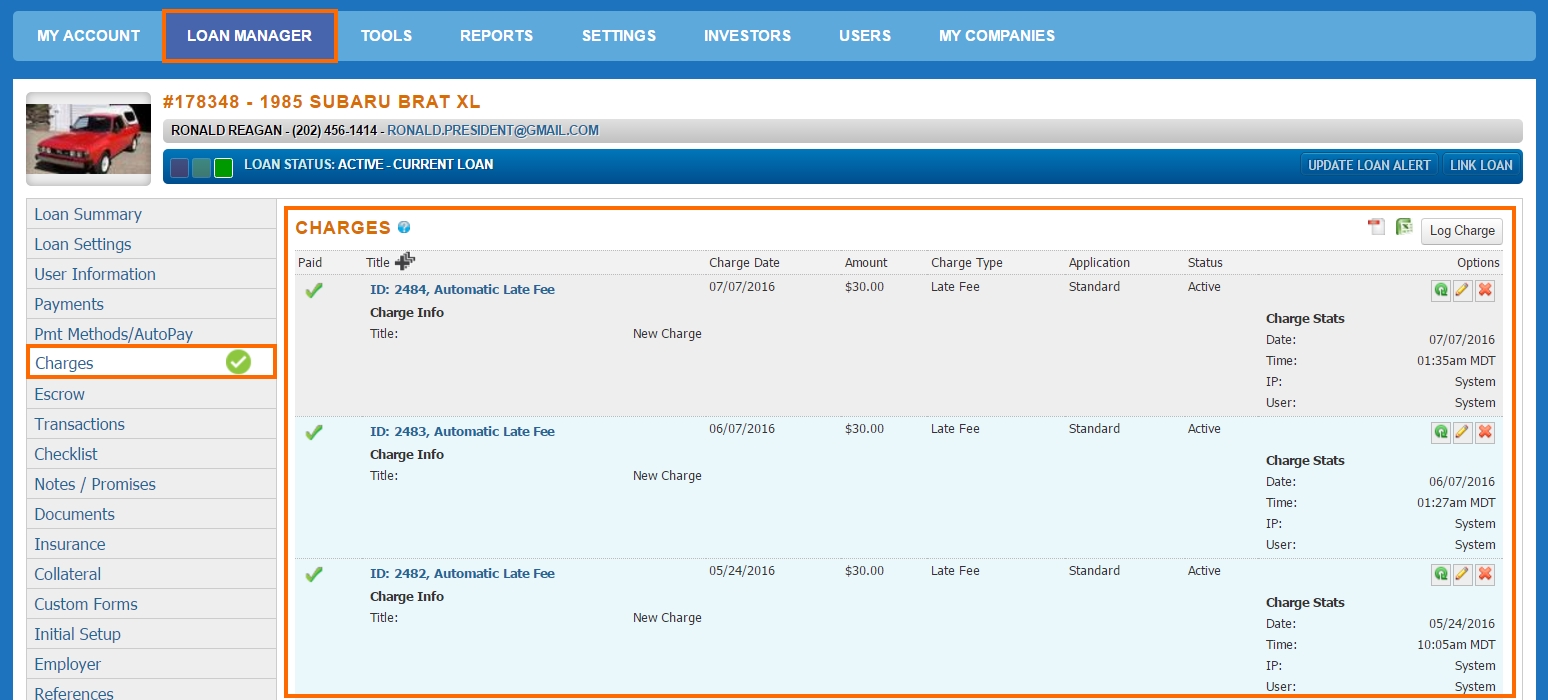 Charge stats give you a breakdown of the original recording of a charge. This includes; Charge Date, Amount, Charge Type, Application, Status, and a time date stamp.