General
AutoPal provides you with the ability to allow investors to be assigned to a variety of loans. Investor information can be tracked by both you via the software and the investor via the hosted website.
Create Investor
To create a new investor in the software, navigate to the Investors tab and select 'Create New Investor'. Once you have selected this button, an information field section will populate for you to complete.

Manage Investor
Once an Investor has been created within your company, you will have the option to manage a variety of things for that investor. To do so, simply select the 'Manage' button to the right-hand side of the investor in the investor list.
Notable options from this menu include:
User Accounts: The User Accounts section allows you to create New user accounts for your investors to have the ability to log in through the hosted website to view information about the loans they are assigned to. To do so, you will select the 'Create New User' button and complete the fields on the next menu.
Loans: The Loans section is where you will view the loans that the investor is assigned to, showing Investment amount, borrower, ownership, etc.

Transactions: The Transactions section will show a commission breakdown on each payment made on each loan that the investor is assigned to. You can specify to see the information for all loans the investor is assigned to, or simply a single loan. You will also be able to specify a date range to view the breakdown from.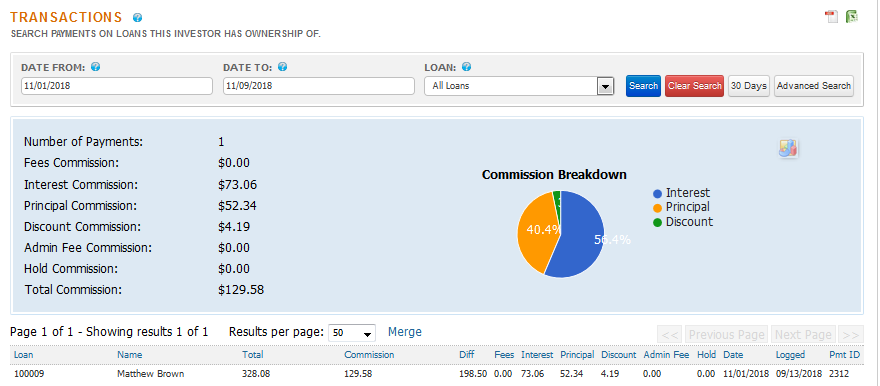 History: Finally, the History section allows you to track transaction records between the investor and your company. You can either view transactions or create new transactions. To create a new transaction in this section, simply select the 'New Transaction' button and complete the populated fields.
Assign Investor
Once you have created an investor for your company, you can assign the investor to any loans you have created in the software. To do so you will navigate to the loan manager, select a particular loan, select the investor tab on the left-hand side and finally select 'Assign Investor'.

When you have selected to assign an investor to the loan, you will be presented with a menu to specify some things about the investment. From this menu, you will be able to specify an investment amount or percentage to associate with the investor. Once you have done this you can either keep the commission percentages that the system populates in the boxes or edit them to be exactly how you would like them to be.