General

Due to the vast nature of the lending industry and AutoPal Software's ability to cater to nearly any loan type, correctly configuring your loans is vital. To help make this process easy, AutoPal includes all of the necessary settings in the "Advanced Configuration" section of each loan.
How To
Located on the initial setup tab, the "Advanced Configuration" allows you to change settings varying from Loan Type, to the application of interest. To access the "Advanced Configuration", simply access an unactivated loan, and select the "Initial Setup" tab from the left-hand column.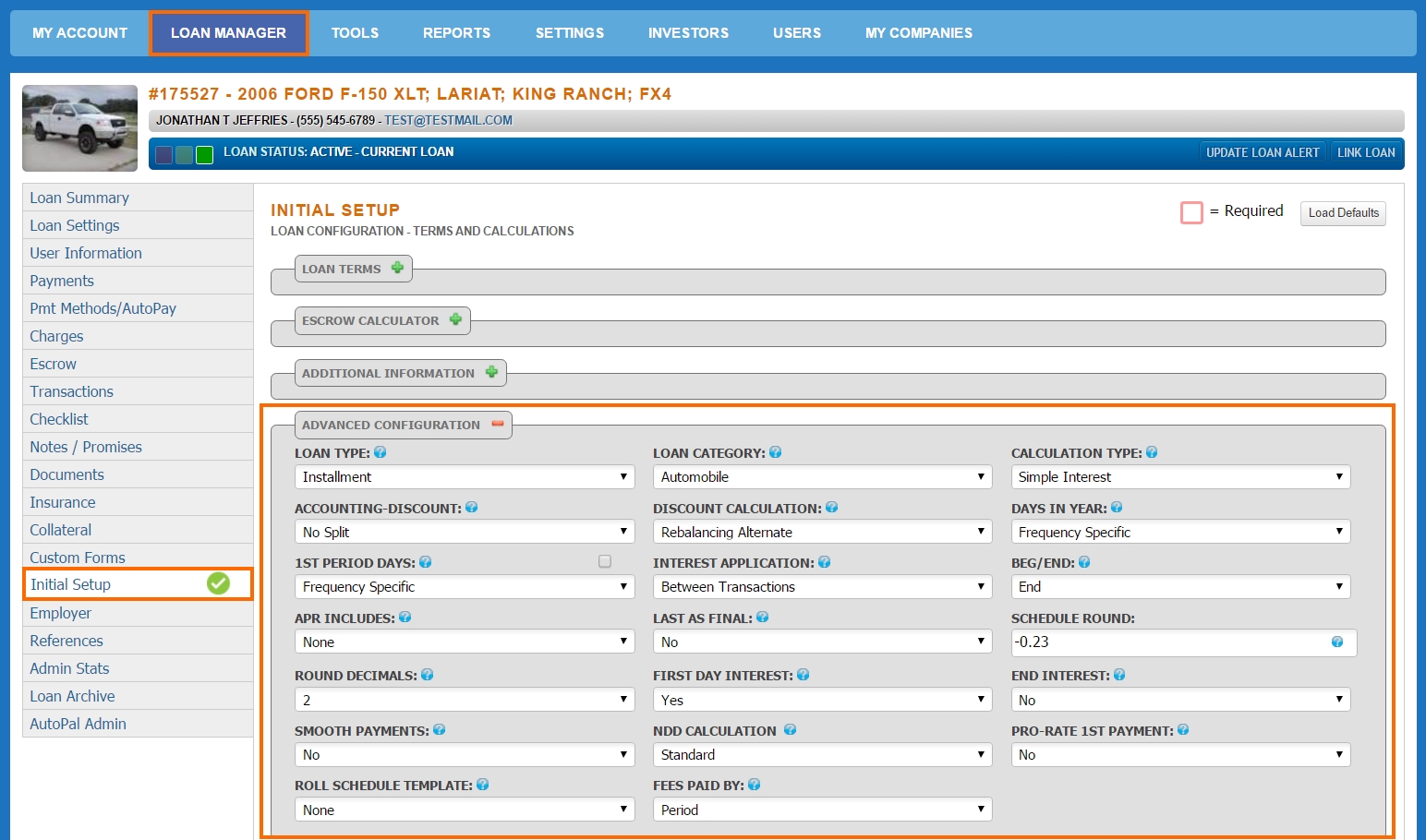 Once you have accessed the Initial Setup, you will notice the Advanced Configuration towards the bottom of the page. There are several items in this area, some of which will be further elaborated on in additional articles to ensure clear explanation. The article you are reading is attempting to introduce the topics contained in this section, please select from the hyperlinks on this page to view related materials if necessary.

Loan Type: The type of loan being funded, selection options include: Installment, Flooring Loan (a business to business specific loan type), and Credit Limit. For more information, please read the following article – Advanced Configuration – Loan Type
Loan Category: The "Loan Category" will affect what items are displayed inside of this loan account. For example, an "Automobile" loan will have a Year, Make, Model in the collateral tab, whereas a "Real Estate" loan will have classification fields like Year Built, Address, etc.
Calculation Type: Different loan types may require different calculation methods. Use this section to select from the following options: Simple Interest, Interest Only, Simple Interest – Locket, Lease, and Alternate Lease. For more information, please read the following article – Advanced Configuration – Calculation Type
Accounting-Discount: The amount entered in the "Lenders Fee / Discount" field can be recognized as income either when the loan is originated, or incrementally over the life of the loan every time the borrower makes a payment. By selecting "No-Split" you will recognize income up front, while "Yes-Split" allows you to realize income incrementally over the lifetime of the loan. Please note that if the calculation type is set to "Interest Only", this field will be locked to "No".
Discount Calculation: If "Yes-Split" is selected in the "Accounting-Discount" field, you can select an option from this list to determine how discount income is realized. For more information, please read the following article – Advanced Configuration – Discount Calculation

Rebalancing – this takes the unpaid discount divided by the remaining term to recalculate the updated discount portion, it does this calculation each period.
Straight-line – Discount will be calculated as the original discount divided by the original term.
Percentage – this will force the ratio percentage of original discount divided by total loan amount. So when a client makes a payment, the same percentage will show. This is the only option where principal only payments will have a portion be discounted.
Percentage Fixed – will always regardless if the discount has come due yet, apply the payments made broken down by the ratio. This is the only difference between Percentage and Percentage – Fixed

Days in Year: This field allows you to select the number of days used in your interest calculation. "Frequency Specific" will use a 360 day year on monthly loans, and a 364 day year on weekly and bi-weekly loans. "Actual" will use a 365 day year regardless of frequency. For further understanding on this topic, it is recommended that you review the "Frequency Specific" and "Actual" days in year articles. For more information, please read the following article – Advanced Configuration – Days in Year
1st Period Days: This field allows you to select how AutoPal calculates the number of days in the first period. Options include frequency specific, actual, and force regular. For more information, please read the following article – Advanced Configuration – First Period Days
Interest Application: This field allows you select how interest will come due, or in other words, be applied on a loan. Options include "Between Periods", and "Between Transactions". Due to the importance of this particular setting, it is recommended that further materials are reviewed for a more in-depth understanding. For more information, please read the following article – Advanced Configuration – Interest Application
Beg / End: This setting allows you to choose whether payments will be calculated based on the payment being made at the beginning of the payment period, or the end. In the vast majority of cases, "End" is the appropriate choice. "Beg" should only be selected if the calculation type of lease is being utilized.
APR Includes: This field allows you to select if "Escrow", or "Hold" are to be included in the calculation of APR.
Last As Final: This setting allows you to select whether or not the final payment of the loan is tied to the original term. If set to "Yes", the original maturity date of the loan will be forced regardless of delinquency or history. In the event the customer has deviated from the original schedule of the loan, a balloon payment will be forced. If "No" is selected, the loan term will extend by the standard payment amount until it is paid off.
Schedule Round: This field allows you to add or subtract an amount from the final payment. Generally, this tool is used to help equalize payment schedules.
Round Decimals: This field lets you choose the number of decimals to which values with be rounded during calculations in AutoPal. Final currency values will be rounded to two decimal places. Increasing the number of round decimals will usually have a negligible effect, except where loans have high interest rates.
First Day Interest: This setting allows you to select whether or not to accrue interest on the contract date. If "Yes" is selected, interest will begin accruing on the contract date, if "No" is selected, interest will begin accruing one day subsequent to the contract date. For more information, please read the following article – Advanced Configuration – First Day Interest
End Interest: This field allows you to select whether or not to stop interest accrual on the maturity date, or one day prior to the maturity date.
Smooth Payments: Select if you desire for the system to automatically smooth the payment schedule. This will by iteration automatically roll for term exact and enter the smallest round amount necessary to have the payments smooth.
NDD Calculation: This setting allows you to select how the next due date is calculated is calculated in terms of forecast payments.
Pro-Rate 1st Payment: Use this setting selection to automate the proration amount of the 1st payment based off of the irregularity of the days in the 1st period.
Roll Schedule Template: This setting allows you to select from your list of saved schedule roll templates, and have them apply by default during loan calculation. This tool is very helpful when implementing 0% interest promotions, or "Same as Cash" type deals.
Fees Paid By: This field allows you to select how you would like late fees to be applied on a loan account. For more information, please read the following article – Advanced Configuration – Fees Paid By