General

AutoPal lets you setup automated emails to send to either borrower or servicing users when specific events occur in the software. These notifications are called "Event-Based Notifications", and are designed to keep you in contact with your customers, and keep you informed of events on accounts. It should be noted that because the "Event-Based" notifications are tied to specific system occurrences, it is not possible to add new notifications to the system, though you are free to edit the content of the messages.
How To: Edit an Event-Based Notification
To edit an event-based notification, navigate to Settings > Company Management > Emails. You will be greeted with the following screen on this page: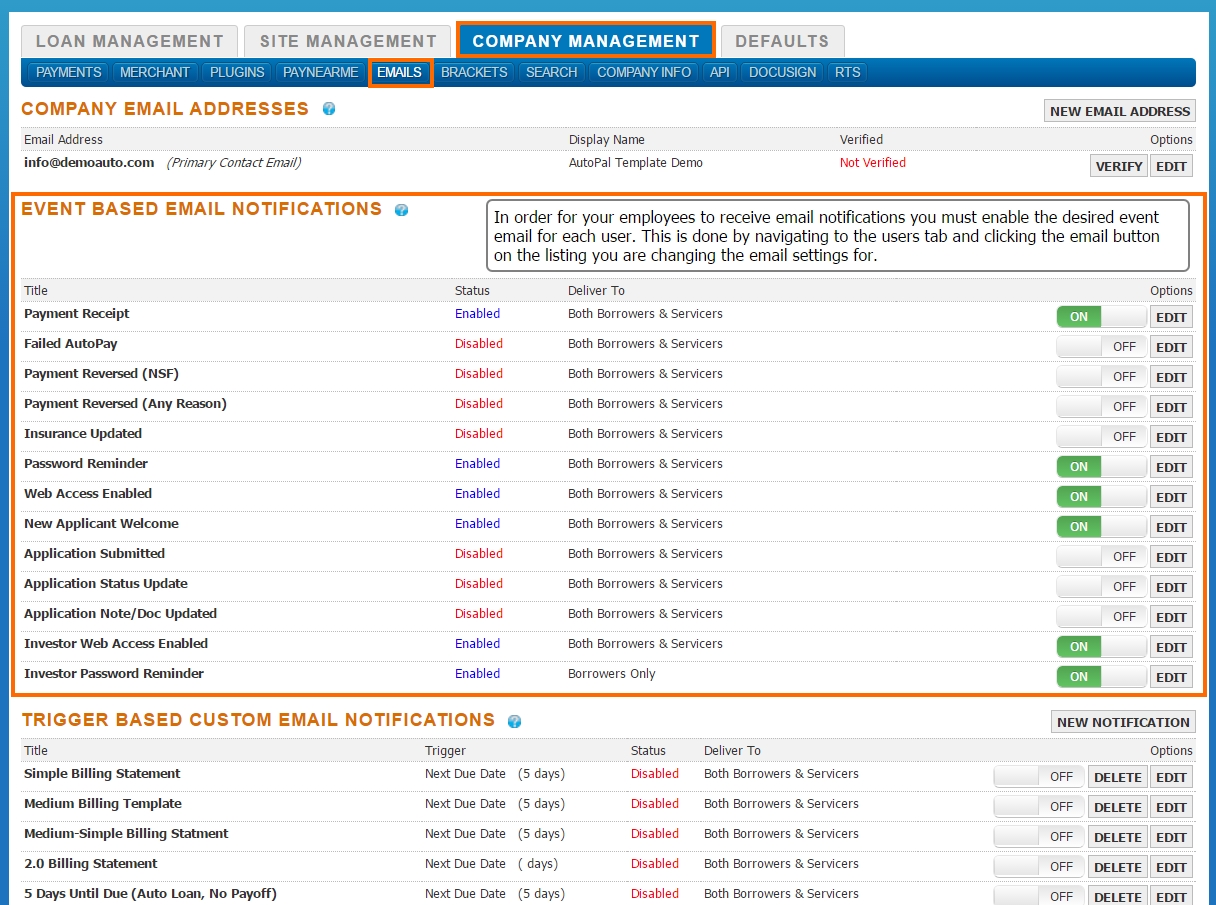 Simply select the Edit icon to the right of the email notification you wish to edit, once accessed you will be greeted with the following screen: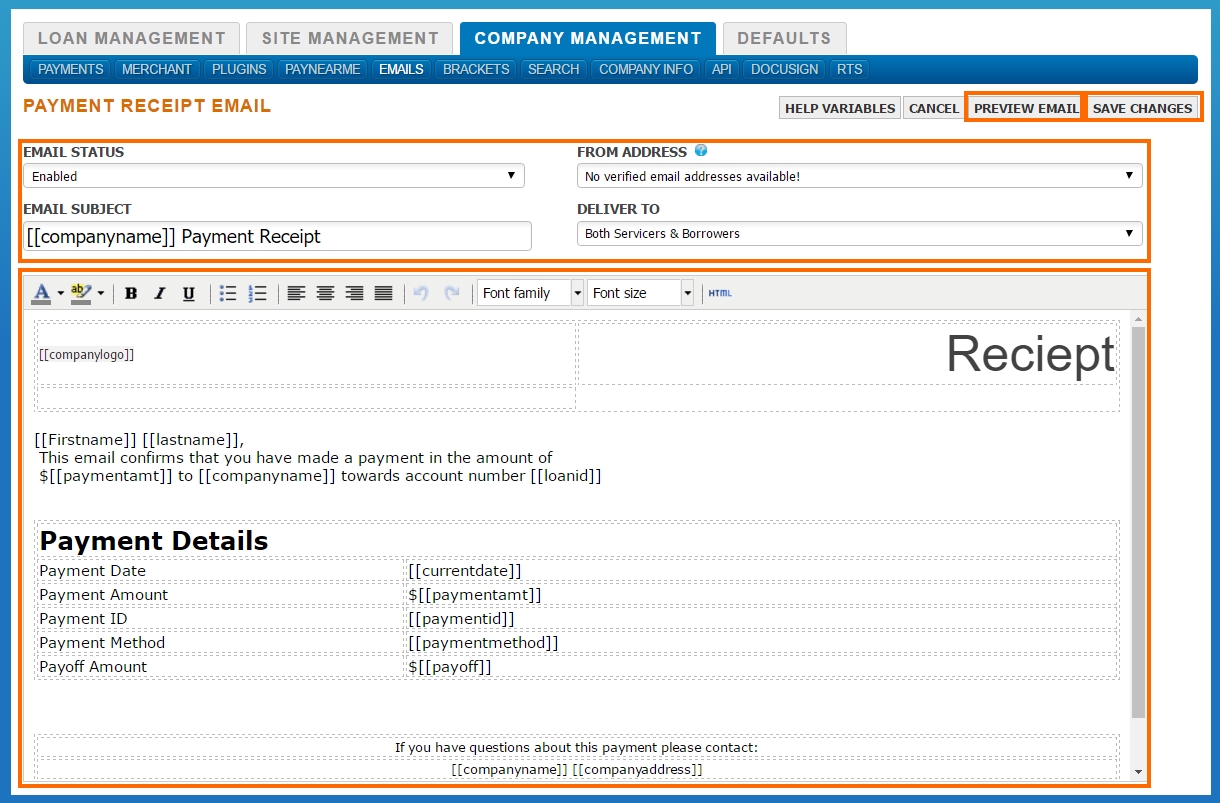 The configuration options for the notification are broken into two sections, the send/subject settings, and the content configuration. The send/subject settings are defined as follows:
Email Status – Choose whether this email should be active or not.  If this action is set to "Off", the email will not be sent out.
From Address – This drop-down contains the list of verified email addresses for your company.  Choose the email address that this email should be coming from.
Email Subject – The subject of the email (this will be seen by the message recipient).
Deliver To – Who should receive this email.  You can choose to have borrowers, servicing users, or both to receive this email when it gets sent out.
The content configuration is located at the bottom of the page. This is where you will enter the body of the notification. You can use the tools provided to format the email text. The options available in the editor include; Text Color, Highlight Color, Bold, Italics, Underline, Bullets, Numbers, Alignment Options, Undo, Redo, Font, Font-Size, HTML View.

When configuring your emails, it is recommended that you utilize AutoPal Software's variable system. These variables will merge account and customer information into the email message so the information in it will be specific to the recipient. To use the variables, click  Help Variables in in the upper-righthand corner of the page.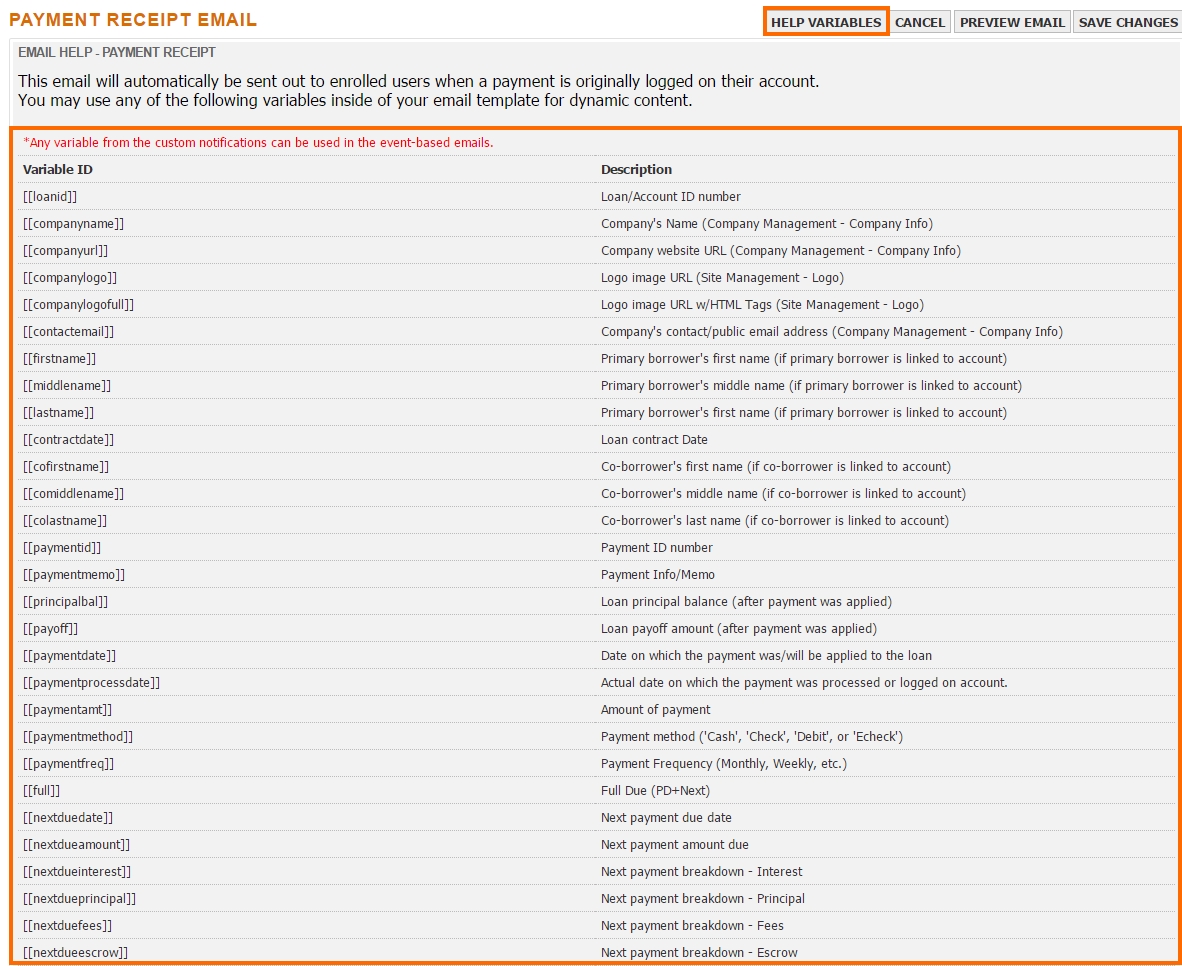 Simply place your cursor where like the variable located in the content configuration portion of the page, then click on the variable you would like to use. The system will automatically paste the variable in the last location of your cursor on the page. You can then select the Preview Email button to get a better idea of how the email will look when sent to your clients. Once you have completed the email configuration select the Save Changes button, and you are done!