General
AutoPal makes loan creation easy by offering several different methods of loan creation. One method that is particularly useful, is the Preconfigured Loan creation, and defaults. This article is focused on the creation and configuration of preconfigured loans. For further information concerning the creation of loans through the preconfigured loan process, please see our article concerning this process.
For an overview of the Defaults tab, please review the following article: Defaults – Overview.
How To
To create a Preconfigured Loan select, Settings > Defaults > Preconfigured Loans, once selected you will be redirected to the following page:

This page will provide a list of all existing preconfigured loans based on the assigned title. By selecting the New Loan Type icon to create a new preconfigured loan.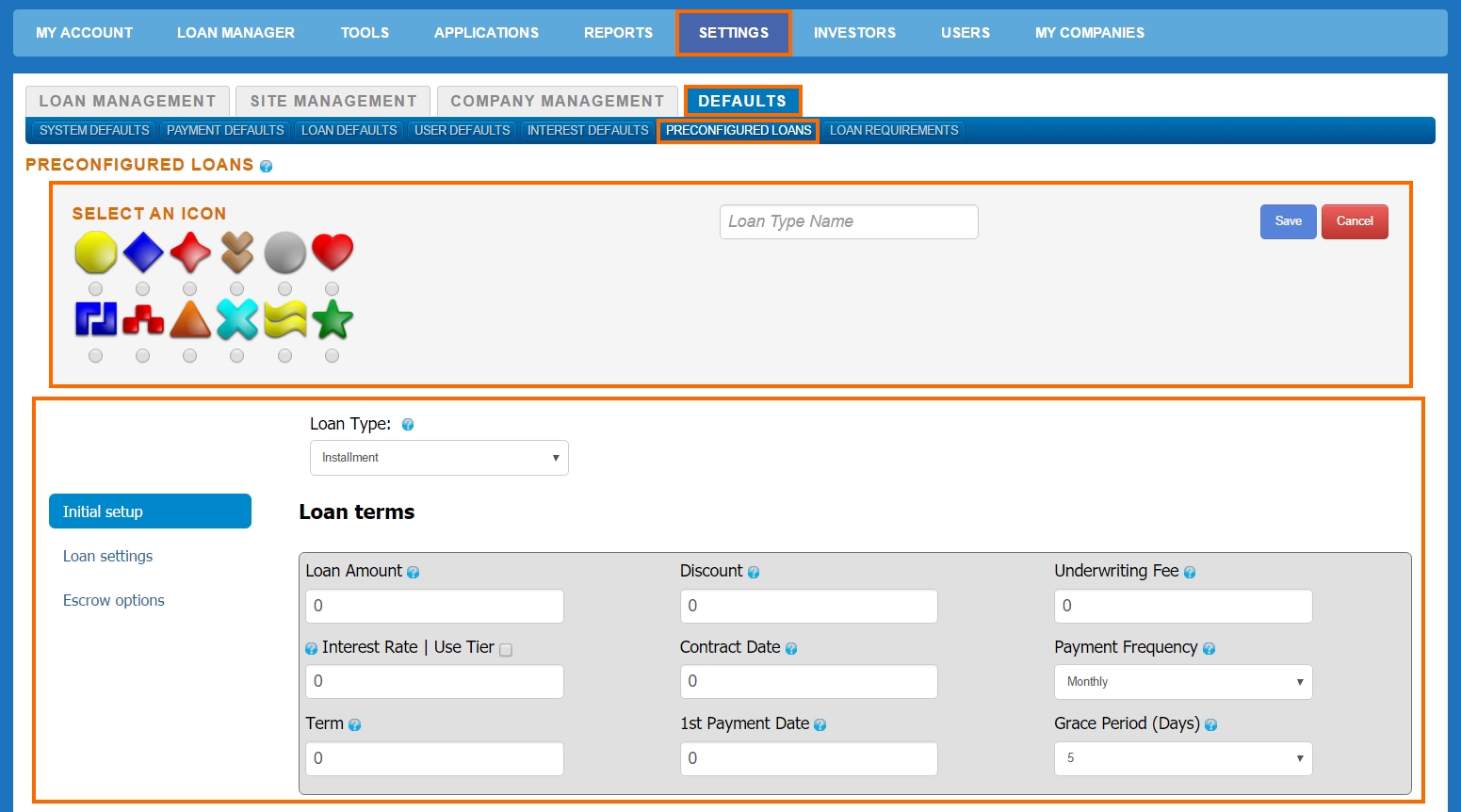 The creation of a new preconfigured loan is simple! To begin, select an icon from the icon list that you would like to represent your new preconfigured loan, and enter a title into the "Loan Type Name" field.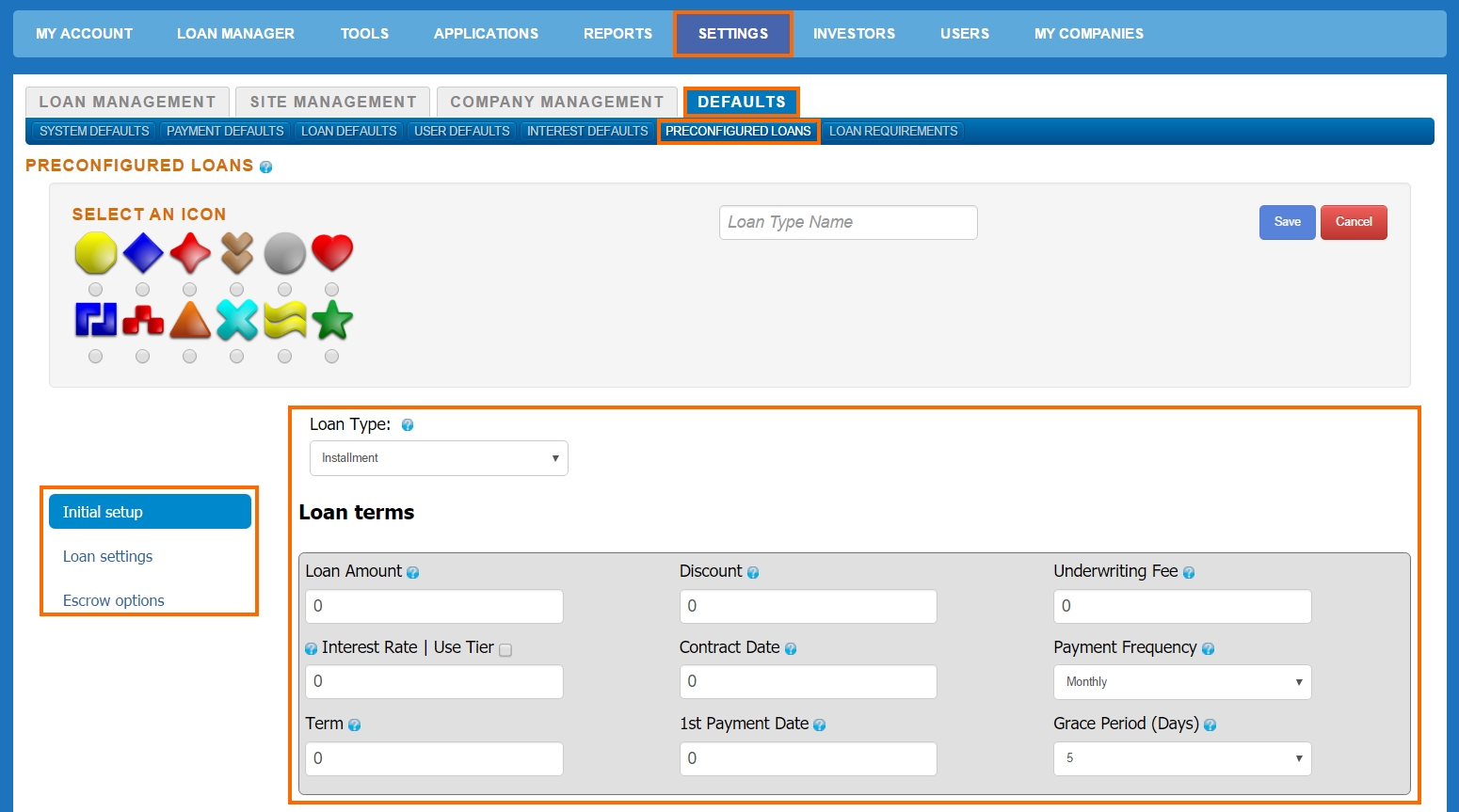 The preconfigured loan setup allows you to default settings in three separate sections of the loan creation process.
Initial Setup: Use this section to assign Initial Setup terms to prepopulate on new loans. These settings are very helpful if your company offers certain loan packages with preset amounts. Through careful setup in this section, you could feasibly avoid entering any terms in this section making the loan activation process much faster. All standard fields in the loan Initial Setup are available in the preconfigured setup. Two fields of particular importance are the "Contract Date", and "1st Payment Date" fields. In the standard loan creation, you can simply enter a date for these fields, but in the context of the preconfigured loan setup the system asks you to enter the number of days from the creation date that the Contract and 1st Payment date's should be set.


Loan Settings: Use this section to preconfigure the "Loan Settings" sections of new loans. Nearly all settings available in the loan settings are preconfigurable.

Settings of particular importance are the "Card Convenience Fee", and the Loan Status / Sub Status.
Escrow Options: Use this section to preconfigure the "Escrow" settings of the new loan.

The preconfigurable options in this section are all setting related. If you want to default numerical values into the preconfigured loan setup, this must be done in the Initial Setup section of the preconfigured loan.
Using the Preconfigured Loans
To create a loan using the "Preconfigured Loans" method, access the Loan Manager, and select the "New Loan" icon.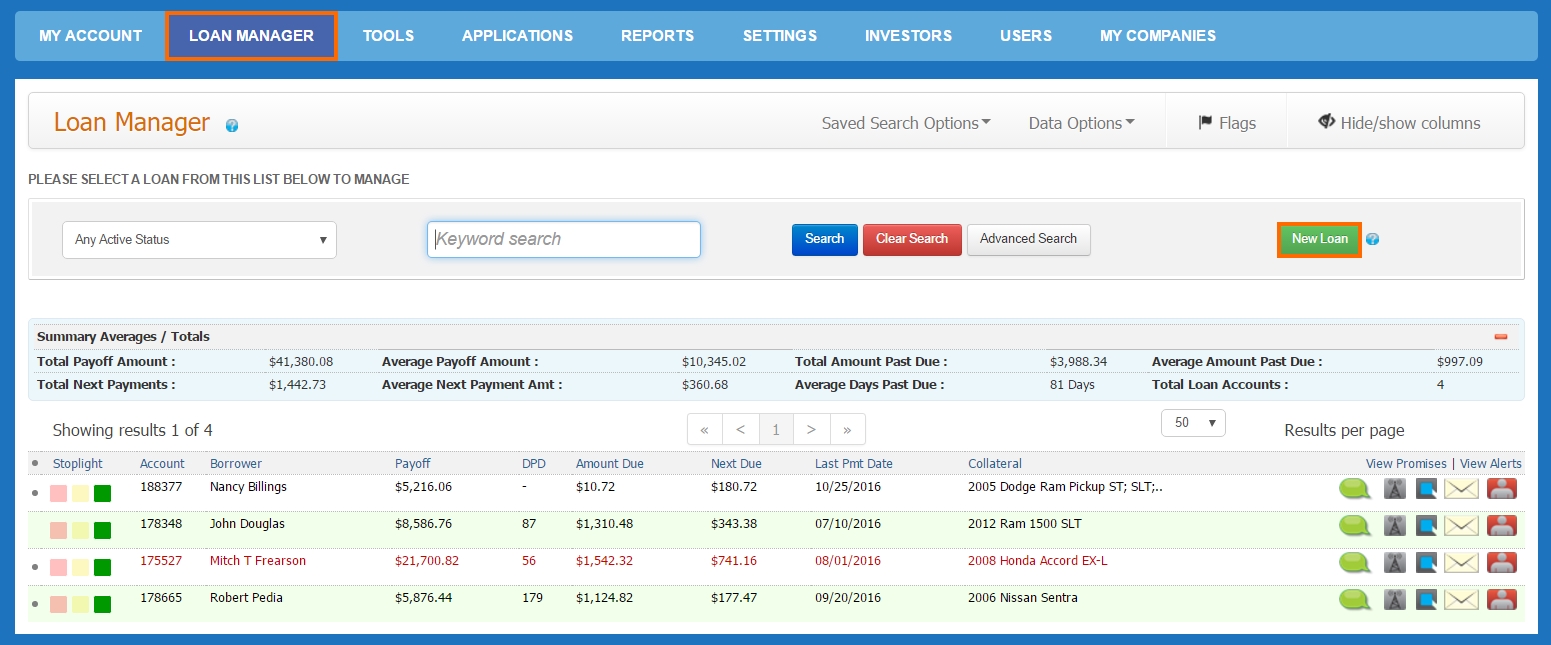 Once the "New Loan" icon has been selected, you will be presented with options for the Standard, Preconfigured, and if applicable the Guided loan creation types.


Once the "Preconfigured Loan Creation" icon is selected, you will be presented with your existing preconfigured loan options:

Simply select the preconfigured loan you would like to populate, the loan will be created, and you will be redirected to the Initial Setup tab. Here you can finalize loan terms, and activate the loan.