General
There may be circumstances where existing PayNearMe orders will need to be edited, or a payment slip will need to be reissued to a borrower. It is important to note the distinction between a payment slip and an order. A payment slip is merely a component of the overall PayNearMe order that allows the client to pay utilizing a barcode.
For a general overview of the PayNearMe tool please review the following article: PayNearMe Overview. Additionally, for further information on enrolling a borrower for PayNearMe, please review the following article: Borrower Enrollment.
How To
To create a new PayNearMe payment slip, access the loan in question, and access the Payments tab.

From this point you can select the "PayNearMe" icon to open the order list: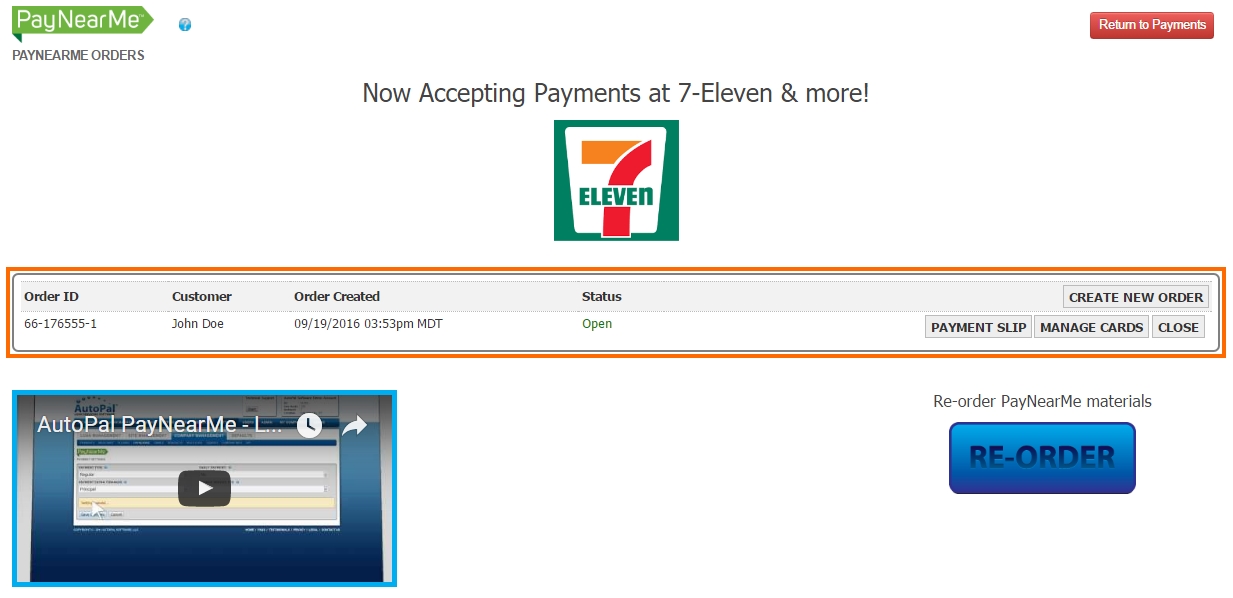 You will notice that on our sample account, there is a single existing order. You can use any of the options on the right hand side to make specific changes to an existing order or to reissue a payment slip. You may have multiple orders on a single loan, they will be listed, and will all have the same options on this page.
Payment Slip
By selecting the Payment Slip icon you will have the ability to issue a payment slip to a client through email or text. The payment slip includes a scannable barcode the borrower can use to facilitate the processing of their payment.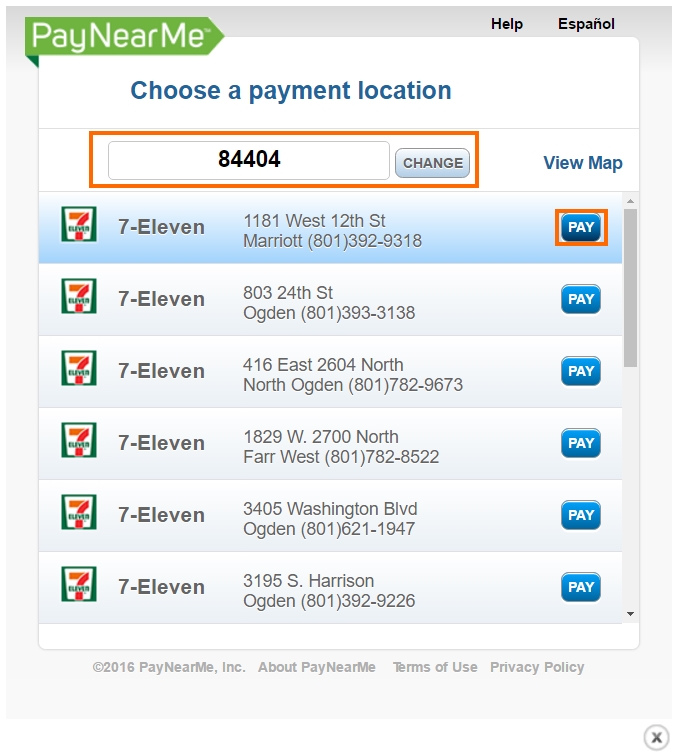 From this page enter the zip code nearest to the borrower's location and select the "Change" icon. This will generate a list of 7-11 locations near to the borrower where they can make payment. Select the "Pay" icon to the right of the location they would like. Regardless of which option you select, the payment slip will be usable at all 7-11 locations.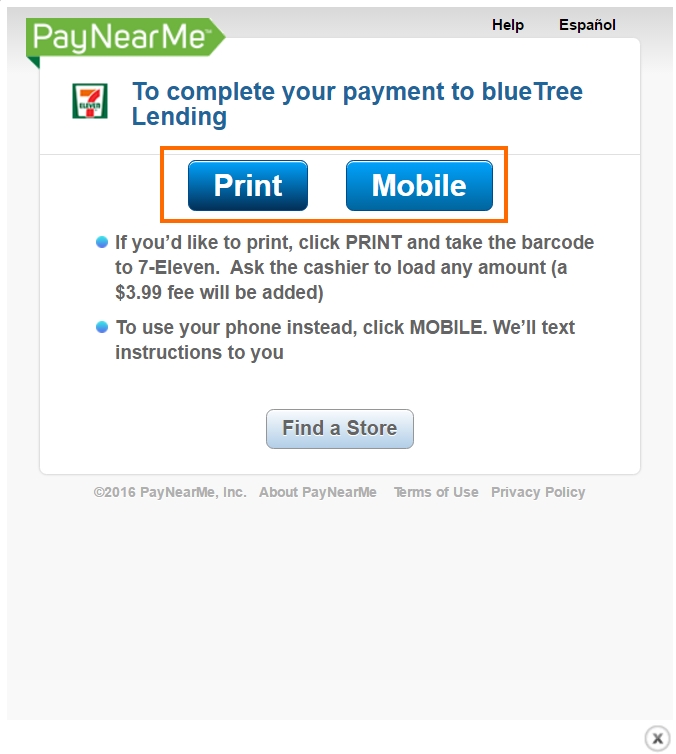 From this page you can select the "Print" or "Mobile" icons to send the slip to the client.
Print
The "Print" option will generate a PDF file that can be printed, or emailed directly to the client (and then printed), which includes a barcode and instructions for payment processing.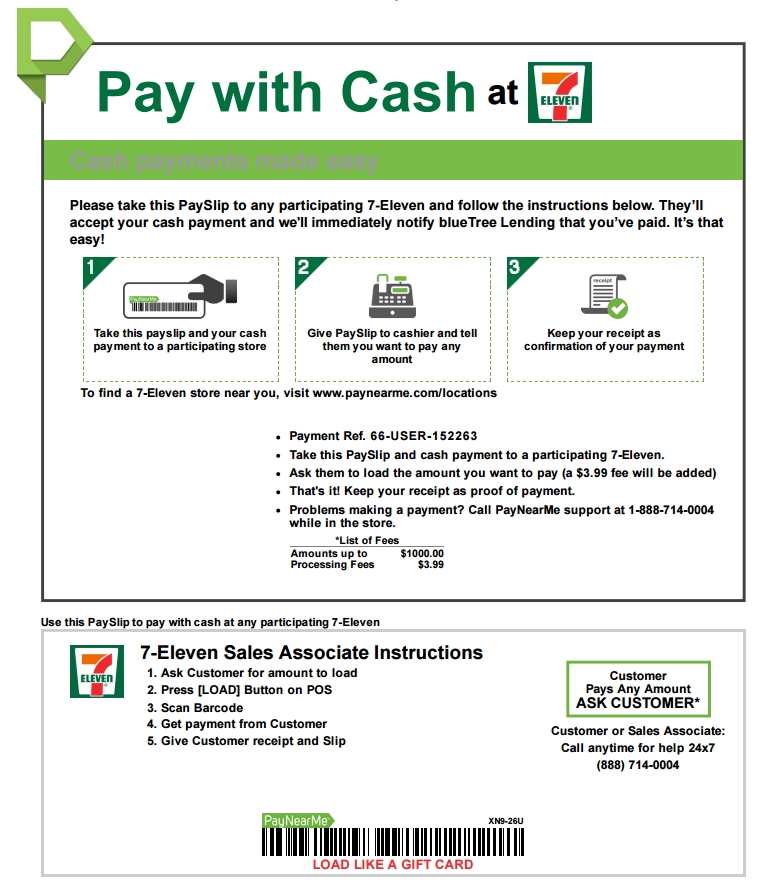 The client will simply follow the instructions listed on this PDF to successfully post a payment.
Mobile
This option will send a mobile barcode to the client. It is important to note that the borrower must have a smartphone with either iOS or Android for these messages to work as intended. You can also use this option to send an email to the borrower's personal email address that is pre-formatted for use.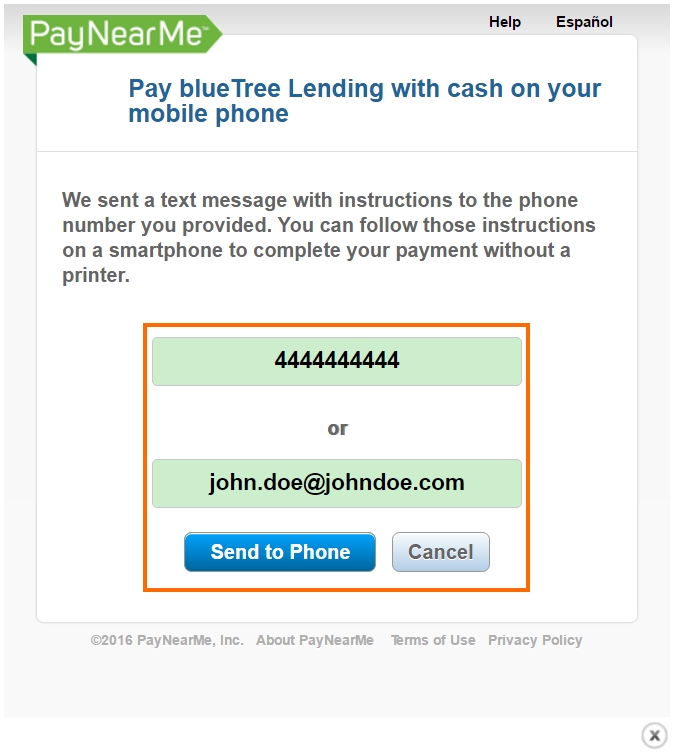 Simply enter the client's phone number or email address and select the "Send to Phone" option to send the barcode to the borrower. Once received by the client, they will be able to process the payment at any location that accepts PayNearMe.