General
This article will cover the three different methods available in AutoPal to assign a portfolio to a loan.
If you would like more information on portfolios, please read the Portfolio Overview article. If you would like to make a new portfolio, or edit an existing portfolio, please refer to the Creating a New Portfolio article for additional information.
Assigning Portfolios
Upon Loan Creation
The first method of assigning a portfolio to a loan account is during the Loan Creation process. After you have created a new loan, and selected a loan type, you will be taken to the screen displayed below. Here you will enter loan information into the provided fields.
On the right-hand side of the screen, there will be a section titled "Grouping Options", dedicated to assigning portfolios, source companies, and other items to accounts to ensure they are properly grouped within your portfolio.

After the loan has been created, it will be organized based off of the portfolio selection on this page. Edits to the assigned portfolio can be completed through the "Loan Settings" within the newly created loan.
Post Loan Creation – Single Loan
If you need to assign or change the portfolios assigned to an existing loan, simply follow the steps listed below:
Access the loan
Select the Loan Settings option
Select the "Manage Loan Settings" icon
Assign the Portfolio
Select the Save Changes icon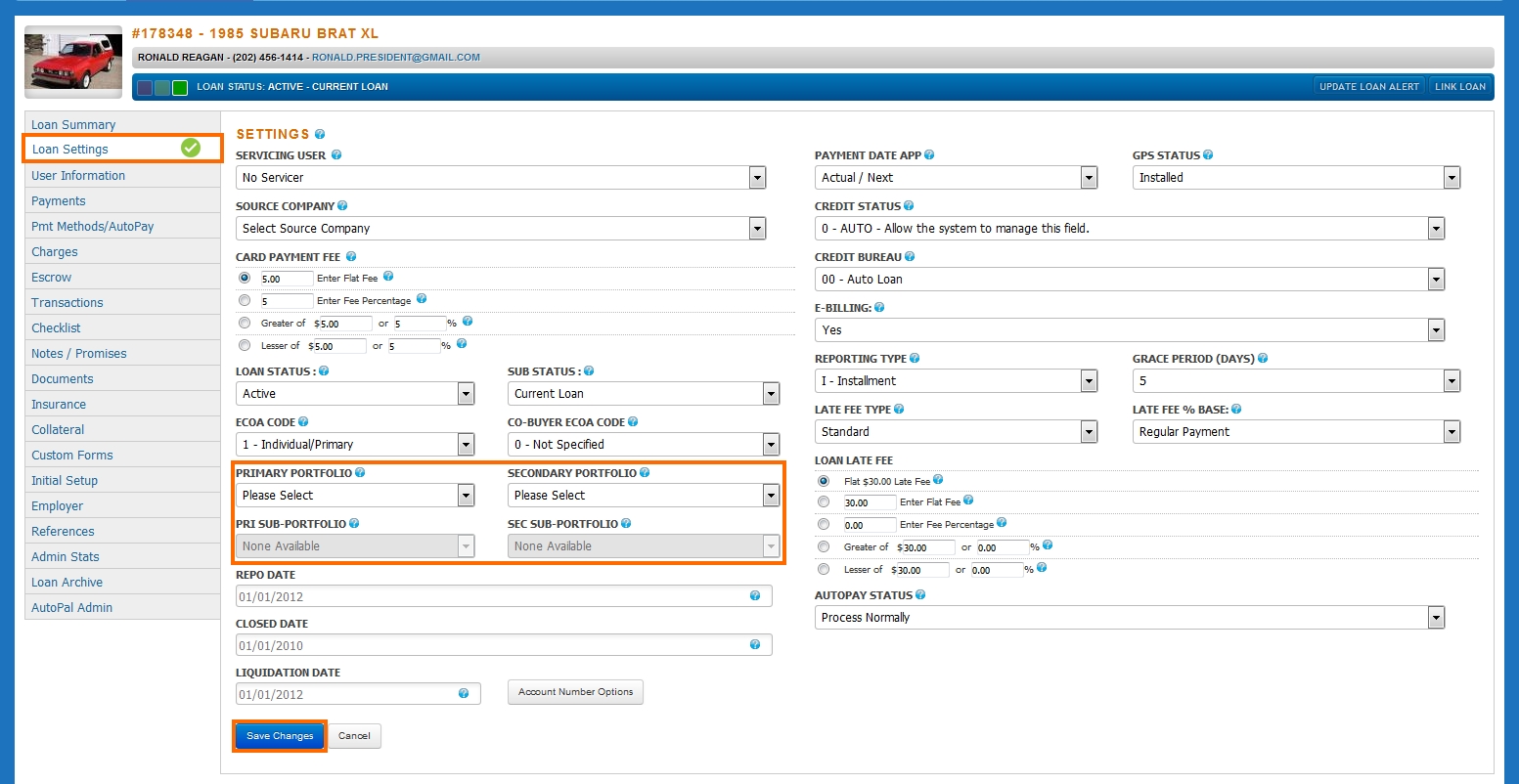 Post Loan Creation – Multiple Loans
If you find yourself in need of updating / adding multiple loans to a portfolio or sub – portfolio, AutoPal offers a Loan Settings Import. Specific Instructions for a Loan Settings Import can be found on the Settings > Loan Management > API Import > Loan Settings > Instructions tab.