General

AutoPal offers several add-on modules that can be used to enhance the systems functionality. One of these modules is the Loan Origination tool, which will give you access to the custom loan application tool, as well as give your clients the ability to submit applications through the end-user website. It should be noted that the Loan Origination Module is best used as a data collection tool, and is not intended to be used as an auto-decision tool for your applications.
How To
The first step to using this tool is to ensure that it has been activated on your instance. Because the Loan Origination Module is an add-on product, it will need to be purchased prior to use. To purchase the add-on product, refer to the My Account > AutoPal Store tabs. For further information on the AutoPal Store, please review the following article: My Account – AutoPal Store.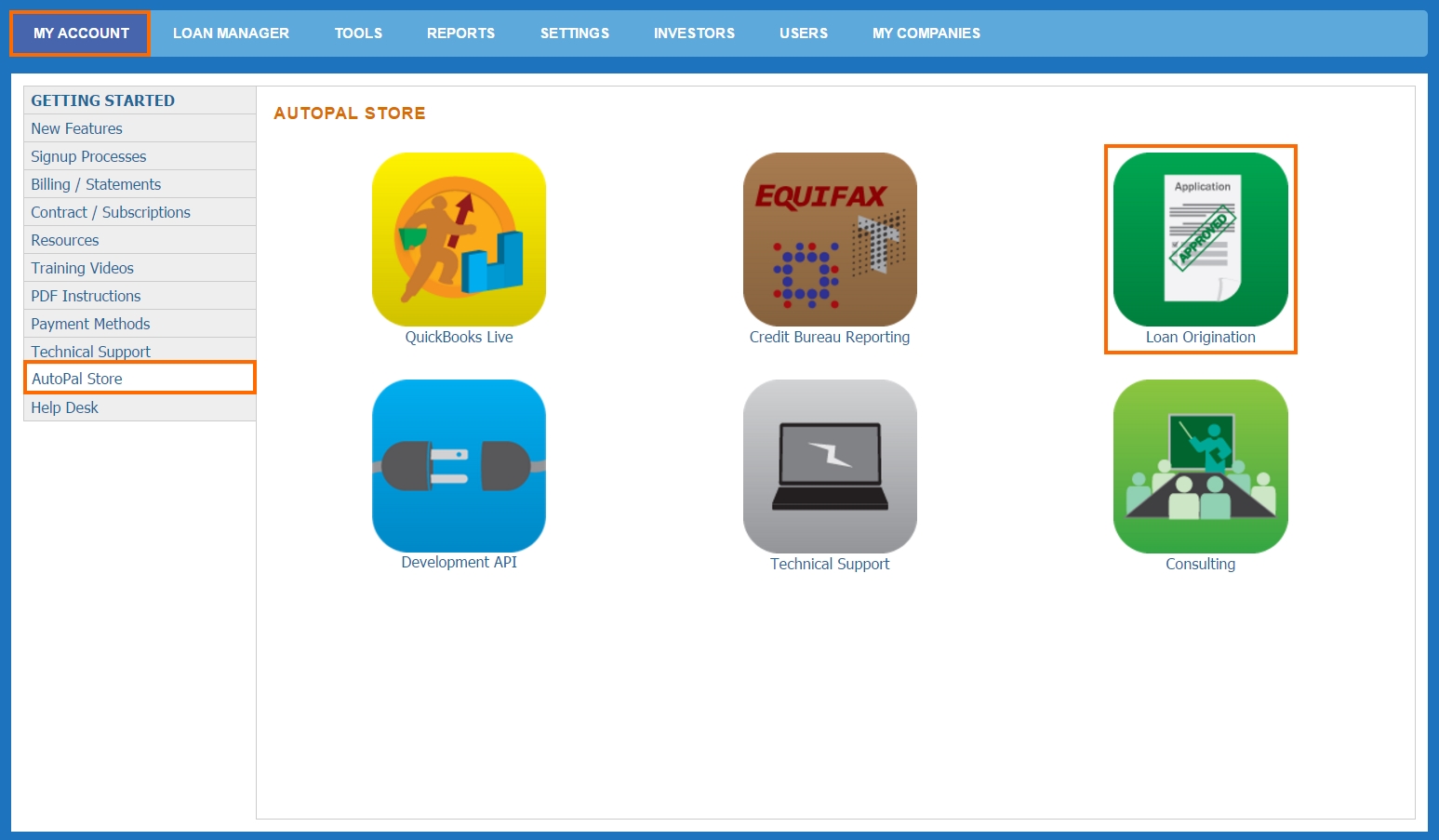 From this page, you can select the "Loan Origination" icon, and purchase the tool using the Purchase Loan Origination Subscription icon.
Once the tool has been added, you will see the "Applications" tab available in the navigation bar.

By selecting the Applications tab, you will be directed to the following page:

There are four tabs available to underwrite, configure, input, and process applications available. They are as follows:
Applications List: Similar in function and layout to the Loan List, this tab provides a list view of all applications entered for your company. All applications submitted through the end-user website, or manually through the "New Application" tab are stored on this page.
Settings: Through this tab you are able to configure and control several application settings and tools.
New Application: Use this tab to manually create applications. This can be utilized by your servicing users to create applications on the behalf of customers or to transfer a paper application into the system.
Auto Approval: This section provides some rudimentary auto-approval tools. While functional, it is generally recommended to manually underwrite your applications due to the added controls available.
For additional information concerning the approval / conversion process of an application to a loan, please review the following article: Converting an Application to a Loan.