General
AutoPal provides an Import tool to allow you to quickly add, update, or in some cases delete large amounts of data by uploading a CSV file. This feature is especially useful in migrating data from your previous system into AutoPal (Click here for an in-depth analysis of the Data Migration Process via the Import tool).
How To
To access the Import tool, navigate to Settings > Loan Management > API Import.
There are four basic steps to the Import Process:
Format the data according to category instructions
Upload the Import file
Verify Data
Import Data
Format Data
The Import tool is separated into 24 unique categories:
Each category must be uploaded as a separate CSV file with the necessary fields appropriately formatted. Each category comes with unique instructions on the formatting and requirements of the CSV file uploads.

Included in the instructions is a downloadable Sample File with properly formatted headers for that Import category, and descriptions and requirements for each field of the Import file. Please follow the instructions carefully, as the import will not work if the file is improperly formatted or the requirements are not satisfied.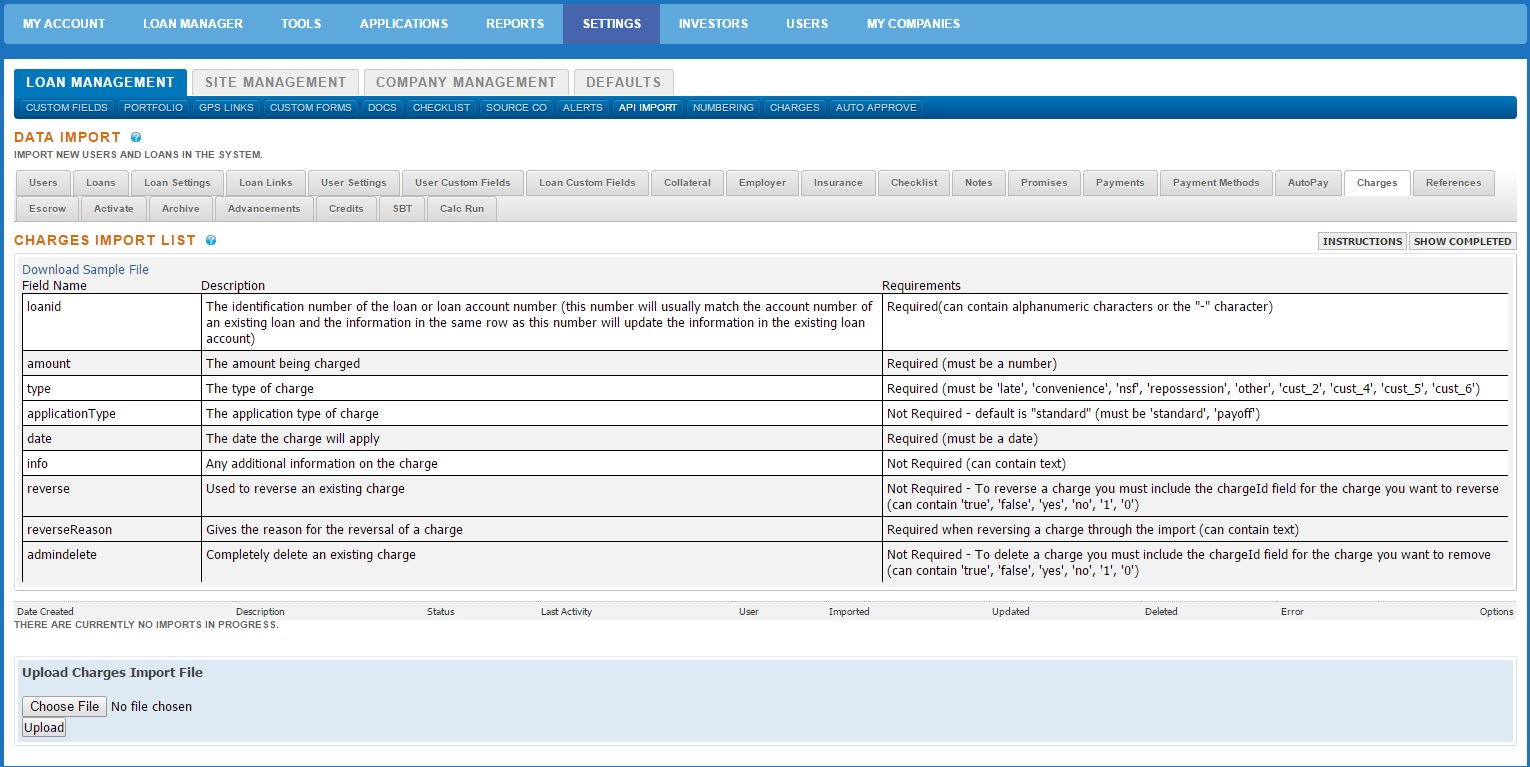 Upload Import file
When you have finished formatting your Import file, choose the file saved on your computer then upload it to AutoPal using the Upload Import File section at the bottom of the page.

After you have uploaded the Import file, it will be added to the Import List with a status of Uploaded.

Verify Data
To continue with the import process click the Green Checkmark to verify the data. By verifying the data, AutoPal will indicate any errors in field formatting that must be fixed before the data can successfully Import.

If there are any errors, make the necessary changes, re-upload the file and verify the data again. AutoPal will indicate if the data is properly formatted and the Import process can be continued.

Import Data
Once the Import file data has been successfully verified you may proceed in the Import process by clicking Schedule Import job
The Import Process is now complete. You may view completed Imports for each category by choosing to Show Completed imports on the Import List.